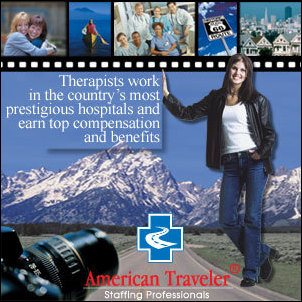 Physical and occupational therapists are at a distinct advantage when they travel with our company
Boca Raton, FL (PRWEB) October 10, 2006
American Traveler, one of the largest and fastest-growing travel nurse companies in the United States, announced it now offers short-term travel assignments and permanent positions not only to nurses but to physical and occupational therapists as well.
Placing registered nurses in travel nurse jobs has been a prevalent way to compensate for the nation-wide nurse shortage of the past 30 years. Now, the same incentives are available to other allied healthcare professionals, with physical and occupational therapists especially benefiting from American Traveler travel and compensation packages. Physical therapists can earn on average $35-40 per hour, and occupational therapists can earn on average $30-35 per hour. Both receive free housing, free group health, dental and life insurance, bonus opportunities, a 401(k) plan, free weeks between assignments, licensure reimbursement, travel allowances and other incentives. These packages can be worth in excess of $120,000 annually for physical therapists, and $100,000 annually for occupational therapists. Physical and occupational therapists also have the option to begin a traveling job with American Traveler without any prior work experience. Newly graduated therapists can begin work immediately in prestigious hospitals to build their experience and resume at the same time.
"Physical and occupational therapists are at a distinct advantage when they travel with our company," said American Traveler CEO, Robert L. Bok. "They receive exceptional pay and benefits, travel the country, and work at outpatient centers and top-rated hospitals with some of the best medical practitioners in healthcare. Our expertise in providing outstanding client support and matching skilled OTs and PTs with hospitals known for high-quality patient care is why American Traveler is recognized as the leading supplemental healthcare staffing company in the nation."
American Traveler staffs over 2,500 hospitals nationwide in metropolitan, suburban and rural areas. Client hospitals include large university teaching facilities in places like Miami, Chicago, San Francisco and Seattle, as well as small, quaint hospitals in places like the coastal New England towns, mountain resorts and the Midwest.
With over 20 years of hospital staffing experience, the management team of American Traveler conducts business with over 75 percent of the top-rated hospitals in the United States. American Traveler has been finding jobs for healthcare professionals for seven years and has one of the highest retention rates of traveling healthcare professionals in the industry.
For more information about becoming a traveling physical or occupational therapist, please call American Traveler at 800-884-8788 or visit http://www.americantraveler.com.
About American Traveler
From world-renowned university teaching hospitals to rural medical facilities, American Traveler, one of the largest independent cross country travel nursing companies in the United States, provides hospitals with the experienced and dedicated healthcare professionals they need. American Traveler places registered nurses, allied healthcare professionals, therapists and radiological technologists in short-term traveling assignments and permanent placement positions at prestigious hospitals all over the world.
###