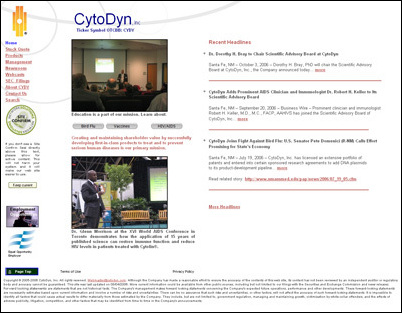 By using science as a foundation, our drugs are not developed on the usual trial-and-error basis, which leads other companies to have high failure rates or high toxicity
Santa Fe, NM (PRWEB) October 10, 2006 –
As the fear of widespread bird flu disease grows, the need for scientifically advanced medications and information grows more vital. CytoDyn.com responds to this demand by offering the latest expanded educational material to cover bird flu preparation. The site also includes updated information about developments in HIV medication and other infectious disease issues.
Cytodyn.com has been expanded after CytoDyn, Inc.'s acquisition of a family of DNA plasmids under license from the University of Massachusetts. These plasmids make it possible for CytoDyn, Inc. and its subsidiaries to develop vaccines and other products for bird flu defense.
"By using science as a foundation, our drugs are not developed on the usual trial-and-error basis, which leads other companies to have high failure rates or high toxicity," says Allen D. Allen, CEO of CytoDyn, Inc.
The best features of CytoDyn.com are the ease of finding research and educational materials including information on AIDS/HIV, avian flu info, and other topics of interest to the public and physicians. The site continues to expand as CytoDyn, Inc. works toward more sophisticated means of bird flu defense and other products in its drug development pipeline. The easy-to-use site now includes the latest news on vaccine development from the company, product information, and more about CytoDyn, Inc.'s vision and management.
"In order to better serve patients and family members concerned with infectious diseases and physicians specializing in infectious diseases, we've expanded our educational content after licensing advanced flu vaccine technology from the University of Massachusetts," says Allen.
CytoDyn.com is one of the best sources of bird flu info, AIDS/HIV educational materials, and other information related to infectious diseases and their treatment. The new expansion of the site follows the acquisition of DNA plasmids used under license from the University of Massachusetts, which will allow CytoDyn, Inc. even better opportunities to develop products to guard against avian flu risks.
About CytoDyn.com:
CytoDyn.com is the Website of CytoDyn, Inc. Based in Santa Fe, New Mexico, CytoDyn, Inc.'s mission is to create and maintain shareholder value by successfully developing first-in-class products to treat and prevent serious human diseases. The company's stock is publicly traded under the symbol CYDY on the Over The Counter Bulletin Board.
###