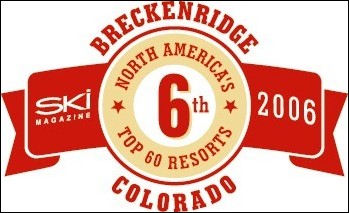 With a base elevation of 9,600 feet, Breckenridge starts where most resorts end
Breckenridge, Colorado (PRWEB) October 11, 2006
Breckenridge has done it again. SKI Magazine just announced the results of their annual resort ranking reader's poll and Breckenridge held strong with a #6 "Overall Best Resort" ranking again last year. ResortQuest Breckenridge offers over 350 Breckenridge vacation rentals in the area.
"With a base elevation of 9,600 feet, Breckenridge starts where most resorts end", SKI Magazine. Although aided by an above average elevation and assisted by below average temperatures and reliable snow conditions, the results represent a major accomplishment for both the town and the Vail Resorts-run resort. Long-esteemed for being on the cutting-edge of the snowboard scene, Breckenridge Ski Resort has struggled against a reputation for being a "beginner's hill", with a severe lack of steep, expert terrain.
However, the 2005 – 2006 season saw the birth of the Peak 8 summit lift – The Imperial Chair – which opened up over 400 acres of previously hike-to-only, double-black, expert terrain. Topping out at a massive 12,840 feet altitude, the Imperial Chair ranks as the highest chairlift in North America and gave credibility to Breckenridge's mountain stats.
"As the highest lift in North America, accessing some of Breckenridge's most amazing intermediate and expert terrain, this lift is the crowning touch on an already fabulous resort," Roger McCarthy, chief operating officer for Breckenridge Ski Resort.
In 2007 Breckenridge Ski Resort plans to open the "Breck Connect" gondola, the first gondola in the history of the resort, which will transport skiers and riders from the downtown skier lots to the base of Peaks 7 & 8. With new developments by Vail Resorts Development Group and Gold Point Development slated to break ground at the Peak 7 & 8 base areas in the summer of 2007, the gondola is seen as a drastic improvement to the overall Breckenridge skier experience.
ResortQuest offers a complete selection of Breckenridge vacation rentals, just steps from all the adventure this mountain resort has to offer. Guests can choose from deluxe hotel suites, 1-4 bedroom condominium and luxurious private homes in ski-in/ski-out or downtown locations. For more information on ResortQuest Breckenridge and their wide selection of vacation rentals, visit ResortQuestBreckenridge.com
About ResortQuest
ResortQuest, one of the nation's leading vacation rentals hospitality and resort real estate companies, provides a one-stop resource in North America's premier resort destinations, ResortQuest.com. ResortQuest is the largest marketer and management company of vacation condominiums and vacation rentals in the U.S. and Canada, based on a portfolio of nearly 17,000 vacation rental properties with a combined real estate value estimated at approximately $7 billion. ResortQuest Real Estate is one of the nation's leading real estate companies focusing exclusively on resort properties, offering superior brokerage services in the country's premier beach, ski and golf destinations. ResortQuest employs more than 4,000 people and is owned and operated by Gaylord Entertainment Co. (NYSE: GET), one of the largest and fastest growing companies in the hospitality and entertainment industries, based in Nashville, Tenn., that also owns and operates Gaylord Hotels and the Grand Ole Opry. For more information, visit ResortQuest.com or GaylordEntertainment.com.
# # #