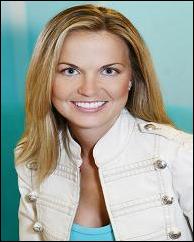 Oceanfront property in desired, upscale locations is limited and always appreciates faster than properties inland for example. Even a Hurricane cannot take this fact away! Once you lived on the beach, there is no going back. Living on the ocean is a privileged lifestyle and attracts a certain buyer who knows exactly what he/she wants
Pompano Beach, FL (PRWEB) October 11, 2006
Katerina Brosda, Broker Associate with Century 21 Oceanfront Realty and principal at MiamiJustListed.com signed an agreement to exclusively market and sell Ocean Pearl Estates, an elite enclave in Pompano Beach, Florida featuring a gated community of sophisticated, ultra-modern and art-deco-chic 4-story town homes across the street from the beach at the Atlantic Ocean.
Katerina Brosda, who has been appointed in the past by various Florida Developers to sell and market 'Class A' properties in rather soft market conditions, continues her success strategy by catering to an international clientele from Europe and South America.
With offices in London, Frankfurt, Moscow and Torino and an affiliate office in Acapulco, MiamiJustListed.com is capable to market real estate locally to an upscale buyer –investors or end-user. Ms. Brosda has had significant impact on the recent successful marketing and sales of condo-conversion projects in the Tampa Bay area, as well as developments in Dubai, United Arab Emirates and South America.
Ocean Pearl Luxury Estates feature a private clubhouse and pool, two car garages, private elevators, two master suites, gourmet kitchen, and designer touches throughout. The main feature though are the spacious yet secluded fourth floor rooftop garden terraces with private Jacuzzi and incredible ocean views! These luxury town homes will only be available for a privileged few who desire and appreciate to live on the ocean in a small community with like-minded people of similar style and affluence.
Pompano Park recently unveiled drawings for a $140 million racetrack casino -- commonly called a "racino" – that will open its doors sometimes in early 2007. The developers envision Pompano Park to become the flagship for their Biloxi, Miss.-based parent company, Isle of Capri Casinos, which owns and operates 13 casinos! The two-story racino will feature state-of-the-art technology. Patrons who use valet parking will get a card when they head inside. When they decide to leave, they'll be able to swipe the cards in kiosks throughout the building. By the time they reach the front door, their cars will be awaiting them. Pompano Beach, Broward County and Florida Marlins officials have also been in discussions for several months about possibly financing a baseball stadium at Pompano Park Harness Track, city officials announced last week.
The Commerce Department reported last Wednesday that home sales increased by 4.1 percent last month, the best showing since an 8 percent increase in March. The inventory of unsold homes did decline to 568,000 houses. From 2001 through 2005, housing enjoyed five consecutive years of record sales, propelled by the lowest mortgage rates in more than four decades. With the Federal Reserve more than likely cutting interest rates and stopping the two-year effort to push interest rates higher to slow the economy, Pompano Beach like many Southeast Florida coastal cities will further capitalize on its beautiful beaches and sound city management.
"Presales for Ocean Pearl Estates are very strong, and the luxury home market is relatively independent from economic fluctuations", Ms. Brosda pointed out. "Oceanfront property in desired, upscale locations is limited and always appreciates faster than properties inland for example. Even a Hurricane cannot take this fact away! Once you lived on the beach, there is no going back. Living on the ocean is a privileged lifestyle and attracts a certain buyer who knows exactly what he/she wants", Ms. Brosda continued. Ocean Pearl Estates caters exactly to this buyer, who does not necessarily wish to live in a high-rise condominium, but likes the idea of a smaller community, properly managed in one's absence.
Ocean Pearl Estates Town Homes start at $1.39 million, more information can be found on http://www.MiamiJustListed.com or by calling the sales center at (305) 788-9393.
Century 21 Real Estate LLC is the franchiser of the world's largest residential real estate sales organization, providing comprehensive training, management, administrative and marketing support for the Century 21 System. The Systems is comprised of more than 7,680 independently owned and operated franchised real estate offices in 42 countries and territories worldwide. Century 21 Real Estate LLC is a subsidiary of Cendant Corporation (NYSE:CD).
MiamiJustListed.com ™ through its affiliation with Century 21 is a leading professional real estate services firm specializing in marketing planned unit developments and residential properties located in exclusive real estate markets throughout Florida.
By providing wealth-building strategies, information and investment opportunities, MiamiJustListed.com ™ enables its employees, clients and investor partners to mutually participate in the creation of significantly valued real estate portfolios, with minimal capital investment and exposure.
By relying on a strategy predicated on real estate investment opportunities and markets in communities with robust economies and continued growth projections, MiamiJustListed.com ™ believes that it can help to achieve goals for its clients of consistent appreciation of their investments and high value-to-cost performance over the life of the project.
MiamiJustListed.com ™ focuses on two specialized areas that provide exceptional opportunities to our thousands of investors/clients. The focus areas are new construction/preconstruction real estate opportunities and marketing of real estate properties for various developers.
The mission of MiamiJustListed.com ™ is to utilize extensive real estate knowledge and creative marketing techniques through our programs to provide wealth building strategies, information and opportunities that will enable clients to create strong, reliable real estate portfolios.
###