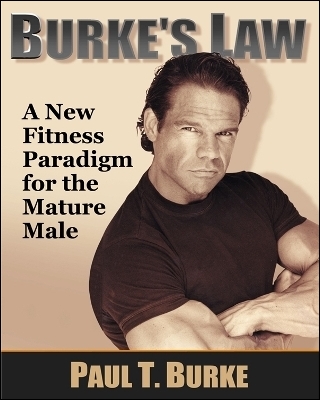 Marlboro, NJ (PRWEB) October 11, 2006
The author of Burke's Law, A New Fitness Paradigm for the Mature Male, Paul Burke says that the reason that the United States leads the world in chronic illnesses (per capita) is because we have done two things horribly wrong in the past forty years: "One," says Burke, the huge and muscular natural bodybuilder and author of over 500 peer reviewed articles and a great new book, "We have turned evolution upside down by taking both men and women, who, during our era that anthropologists call the "Paleolithic Era," once used both fast twitch and slow twitch muscle fibers all day and then ate once or twice a day; and now, not only have women become sedentary to the point where every other women is obese by middle age, but men also, who during this great era of hunter/gatherers were powerhouses of human athleticism and strength, now have become too sedentary and eat twice as many calories as they burn in a day," says Burke, who stuggles to keep fit with a weight training and dietary program, that he devised because of being diagnosed with Multiple Sclerosis. "When you get something like MS, you start researching about everything, and really focusing on a new way of living as if your life depends on it--because it does" Burke concludes.
Burke, who has a Master's Degree in Integrated Studies from Cambridge College in Cambridge, Massachusetts, says that we humans evolved as hunters and gatherers and even up until the end of the Second World War, men and women both were use to working manually and walking many miles per day, while taking in far fewer calories then both sexes do today. And, to add to it, men in this country, on average eat way too much saturated fat and simply choose the wrong ways to burn it off. An average American man would have to run nearlly a marathon to burn up the saturated fat stored up as body fat as they eat three, often four meals a day; often times loaded with saturated fat. Women tend to eat more sugar, which is just as bad in a different way.
The Second Horror; is that clever marketers have managed to make the average American consumer believe that, refined food, such as white bread(white flour is the basic ingredient for almost all breads), or, even the holy grail of modern day bread "whole wheat" are both "good for you." In fact, so many say, bread is the "staple" of any culture's diet." Burke, who has taught teachers from all over the world, who needed to get their Master's by state or government requirements says that any bread that was a staple in an ancient diet was made from the real whole grains and were set in the sun to form a gooey ball of grains and then dried into an unleavened loaf. They did not pulverize grains to dust, nor did they turn the entire "loaf" into nothing more than refined flour with yeast and some dye put in for color and effect, such as with the "whole wheat bread" that we call our "Staple food."
Burke says that the fact that ancient breads such as Mana were real grains that had real roughage and real nutrition made it worthy of being a staple because it was nutritious, it had roughage and it did not make the pancreas secret too much insulin, such as the breads that are made today. "The bread that is made today," Burke claims, "is simply outside of the range of the pancreas' response mechanisms." "The pancreas goes wild over breads and pasta." "In other words, Burke says, "Bread and pasta, that we eat today, are just like eating white sugar (with a few exceptions) and the pancreas responds as such. We need look no further than the epidemic of Type II diabetes cases showing up in teenagers." "Insulin resistance and Type II Diabetes," Burke says with real concern, "are both Biological Markers of Aging." "These kids have cells of a 75 year old."
To buy the highly anticipated, critically acclaimed book, "Burke's Law," A New Fitness Paradigm for the Mature Male, go to: http://www.amazon.com , http://www.Trafford.com/05-1850 , http://www.Barnes&Noble.com , http://www.Ironmanmagazine.com , http://www.borders.com .
IMPORTANT: Paul will be doing a book signing at "The Pump" Restaurant at 112 West 38th St. (Between 6th Ave. and Broadway) on October 16, 2006.
He will doing a second book signing at "The Pump" on 31 East 21st St. (Between Broadway and Park) on October 18th, 2006. Books will be available to purchase at a discounted rate at both of these signings.
TO REACH PAUL BURKE DIRECTLY: http://www.paulburkefitness.com
###