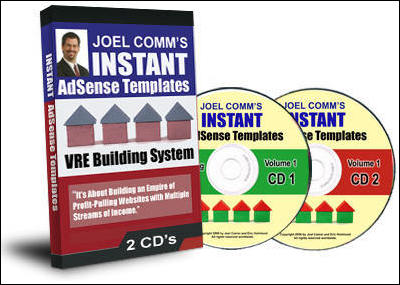 What Google Never Told You About Making Money with AdSense
Edmond, OK (PRWEB) October 10, 2006
Building web sites just got easier for the thousands of Internet entrepreneurs who seek to tap into online wealth.
Joel Comm, the web's recognized leading Google AdSense expert and author of The New York Times Best Seller, 'The AdSense Code', today announced Instant AdSense Templates VRE Site Building System, a comprehensive package designed to provide a quickstart solution for creating revenue-generating web sites.
"Just like real estate in the real world, the real money online is in 'virtual real estate' (VRE)" says Comm. "Thousands of people have valuable information in their niche to share with the world, but they may not have the technical expertise to code, design and monetize their sites. My system helps them get started faster than any package I am aware of!"
Instant AdSense Templates VRE Building System contains 150 niched templates on a two-CD set. Each template comes in five popular formats (HTML, Wordpress, XSitePro, HyperVRE and PhpBB) and is optimized for search engines and optimal Google AdSense placement. Along with accompanying graphics files in multiple formats, the set also has a wealth of training materials and resource, including Comm's popular ebook, "What Google Never Told You About Making Money with AdSense", and over three hours of new training videos that provide step-by-step instructions for implementing the system.
Encouraging site publishers to focus on building content-rich sites with his product, Comm hopes people will stop looking for supposed 'get rich quick opportunities' and catch the vision for what is possible when they build web sites the right way.
Previous versions of Instant AdSense Templates have sold out in less than 48 hours, so this new version is in high demand from the Internet marketing audience. Comm expects tens of thousands of visits to his site on launch day.
For additional information, visit
http://www.InstantAdSenseTemplates.com
Joel Comm is a socially conscious Internet entrepreneur and technology visionary who creates family friendly web experiences while showing people how to earn income online. Recognized by many as the leading expert in Google AdSense, Comm's materials have helped thousands discover the strategies to multiplying their income with AdSense.
For more information contact InfoMedia, Inc. at (405) 348-2800 or visit http://www.InstantAdSenseTemplates.com.
###