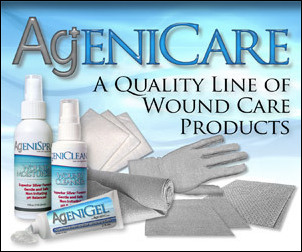 CEO Scott Ty Cobb has announced that they are actively seeking Distributors of the product line
Port St. Lucie, FL (PRWEB) October 12, 2006
The new AgeniCare® product line includes an Single Layer Silver plated Antimicrobial Wound/Burn Dressing, Burn Wraps and Gloves and the Negative Pressure Dressing will start shipping on the 16th of October 2006. The technology is based upon research that Dr. Bart Flick and Dr. Robert O. Becker (The Body Electric), started in the early 1970's. Dr. Bart Flick furthered the technology by himself and started treating patients in his practice in the 1980's. Ionic silver has been shown to have strong antimicrobial effectiveness against a broad spectrum of bacteria and fungi.
The "CEO Scott Ty Cobb has announced that they are actively seeking Distributors of the product line" and expects to have the International Distribution network set in place within the next 8 months. The products can be seen at the companies website at http://www.agenisys.com and sample requests can also be requested there. The products falls under the FDA 510k exact equivalence of the Silverlon® single layer bandage of Argentum Research. The AgeniWound® and AgeniBurn® products are both single layer Antimicrobial SILVER plated Wound and Burn dressings at up to 40% lower pricing than their competitors like Silverlon®, ActiCoat® and DermaSciences®. AgeniBurn®/AgeniWound® Contact Dressings are designed for placement directly on the wound.
AgeniBurn®/AgeniWound® Dressings are composed of knitted fabrics that are flexible, and minimally adhering and Antimicrobial. These dressings are extremely versatile and user friendly, conforming to hard-to-dress areas and providing mild compression when needed. AgeniBurn®/AgeniWound® Contact Dressings are indicated for management of incisions, skin grafts, donor sites, lacerations, abrasions, pressure sores, chronic wounds, chronic ulcers, dermal ulcers, vascular ulcers,and diabetic ulcers. The AgeniSpray®/AgeniCleanse® -- A silver based Wound Cleanser and moisturizer for stage I-IV pressure ulcers, venous stasis ulcers, arterial ulcers, diabetic ulcers, post surgical wounds, lacerations, first and second degree burns, abrasions, skin tears and skin irritations.
About the Agenisys® Corp.
The Agenisys® Corp is a privately held Biotech company that is dedicated to helping improve people's lives through their advanced research & development in Wound Management products. The company is based out of Port St. Lucie, Florida.
###