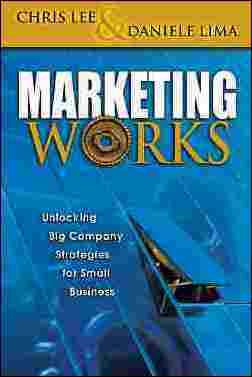 Most people who start their own business know what they are doing technically, but don't know marketing, which is the single, largest factor in the success of a business
South Caulfiled, Victoria, Australia (PRWEB) October 11, 2006
Fifth dan black belt in Taekwondo, a published master chef, an Olympian and an international Business Expert, Chris Lee Co-Author of Marketing Works; Unlocking Big Company Strategies For Small Business, (ISBN: 1600370098) became concerned with the 80% failure rate of small businesses in the first five years of operations.
As Lee and co-author Daniele Lima investigated, they found few sources of help for small to medium sized businesses.
"Most people who start their own business know what they are doing technically, but don't know marketing, which is the single, largest factor in the success of a business," states Lima. "As we looked at marketing books, we found that most were written over the head of the average business owner and didn't give practical, here's what you can do today information. In the last five years, Chris Lee and I have harvested from our experience the essential secrets to successfully marketing a business, especially a small or start-up business."
And what an experience that has been. Lee has excelled in business for 17 years with leading multinational pharmaceutical companies such as Merck Sharpe, Dohme and Bristol-Myers Squibb. He has been Managing Director in China, Korea and Australia and is now the President of Bayer – Schering for the Asia–Pacific Region, where he is directly responsible for over one billion dollars U.S. annual turnover and over 5,000 staff. Under his dynamic leadership, Bayer Healthcare is the fastest growing, multinational health care company in China with a huge growth rate of 32%.
Daniele Lima has worked for twenty years in virtually all areas of business in private, public, large and small companies; including Caltex Petroleum, Metrail and Bristol-Myers Squibb. He has been a National Sales Manager, Regional Training Manager, Territory Manager and Senior Product Marketing Manager. He has won multiple industry awards and years later, still holds national and global sales and marketing related records. Lima is also the founder of the renowned, nationally accredited 'Road Scholars' sales and marketing training courses.
All this expert experience comes together in their new book, Marketing Works: Unlocking Big Company Strategies for Small Business and sets a new standard for books on marketing for small business. The authors have written Marketing Works, to give small to medium sized business owners and operators brilliantly simple strategic insights for their marketing that can be immediately implemented.
Marketing Works employs a step-by-step process of how a small business owner can effectively leverage marketing techniques to maximize the potential of their own business, regardless of the market they operate in. Marketing Works provides real life examples, succinct summaries and worksheet templates that can be easily incorporated into a marketing plan. "Marketing Works will give Small Business the same marketing edge that big businesses enjoy, says Lee. It is incredibly simple, and is proven to work in all markets and business sizes." The book can be purchased through all major book stores nationally and through amazon.com and is distributed through: Ingram Books, Nashville.
Chris Lee is a Best selling management author and holds the extraordinary record for increasing Bristol-Myers Squibb's annual sales in Korea from $3 million dollars to $100 million dollars in 5 years, is the youngest marketing director in Korean History (27) and youngest CEO in Korean history (31). Renowned as a key strategic thinker and manager he is about to take up his new role of President of the Asia Pacific region.
Daniele Lima is an author, key note speaker, media commentator, certified marketer and facilitator of the leading edge 'Road Scholars' Business Training school and holds individual national and global sales and marketing records as a sales man and marketer for his products. He currently is the CEO of Gotham Enterprises: Sales and Marketing consultancy firm in Melbourne, Australia.
To interview Lee or Lima or for more information on Marketing Works; Unlocking Big Company Strategies For Small Business, phone: 61413 297 617 or go to http://www.roadscholarstraining.com
###