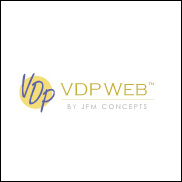 Delray Beach, FL (PRWEB) October 11, 2006
VDP Web, part of the VDP Complete marketing system, is now available as a stand alone product. Drawing on its success with direct mail, VDP Web can be used to enhance any marketing campaign by adding unique URLs which are also known as Purl's. VDP Web does not require modifications to existing infrastructure and it puts powerful sales tools in the hands of marketers. VDP Web does not require an upfront commitment and is fully turn-key.
VDP web enhances any marketing effort in two ways. First, marketers can now capture "soft leads." These are prospects who were interested enough to visit the web site for more information but did not actually make a call. Second, real time e-mail alerts announce the prospect's visit and flag them for follow up.
About JFM Concepts:
JFM Concepts, leading experts in variable data marketing and providers of the turn key VDP Complete marketing system is a full service direct marketing firm that provides all the components of highly successful direct mail campaigns. In-house experts and carefully vetted partners execute all aspects of the campaign including concept, copy, design, art, web development, printing, mailing and reporting.
###