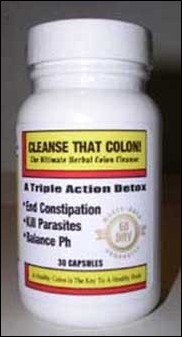 Philadelphia, Pa (PRWEB) October 12, 2006
C.M.T. Enterprises, a recognized leader in the herbal health care industry, is proud to announce our launch of the national ad campaign for it's newest and most anticipated product.
"Cleanse That Colon" is a revolutionary new triple action colon cleanse remedy. C.M.T. Enterprises will be partnering with The Home Shopping Group, the top direct response television specialist. The Home Shopping Group, based in Boca Raton, Florida, is on the cutting edge of direct response television advertising. In addition, The Home Shopping Group will work with Yahoo! Shopping to launch a mass email campaign promoting the product to The Home Shopping Group's vast compliment of existing customers as well as other consumers in search of a natural way to regain control of their overall health. Together, The Home.Shopping.Group.and Yahoo!, with their extensive online presense, have the unique ability to market "Cleanse That Colon" to a wide, yet highly targeted, range of demographics.
Unlike any other colon cleansing product on the market today, "Cleanse That Colon" is the first and only "Triple Action Detox" available. Taken daily, the proprietary blend of herbal ingredients is formulated to help, rid the body of constipation caused by impacted fecal matter, kill all stages of many human parasites, and balance the bodies Ph to promote beneficial flora replacement. This makes it one of the most comprehensive colon cleansing products available. The television spots, slated for release in Jan, 2007, will air on all the major networks as well as leading cable networks, sucessively through every market across the U.S.
"Cleanse That Colon" can be ordered via their website, http://www.cleansethatcolon.com, as well as through Home Shopping Group's website, http://www.shophsg.com. "Cleanse That Colon" is intended to help relieve the symptoms of many human disorders including constipation and bloating, parasitic and yeast infections, irritable bowel syndrome, candidiasis as well as a host of other chronic illness. More comprehensive information is available online at http://www.cleansethatcolon.com. Wholesale and distributor inquiries are welcome. Copyright 2006 all rights reserved.
The FDA has not evaluated these statements. Products featured here are not intended to diagnose, cure, prevent or treat any diseases. The statements contained herein are for informational purposes only, and are not meant to replace the recommendations of your physician. Those with health issues or who are pregnant or nursing are advised to consult their physician before taking these or any supplements.
Forward-looking statements
Certain of the statements contained herein should be considered "forward-looking statements" within the meaning of the Private Securities Litigation Reform Act of 1995. These forward-looking statements may be identified by words such as "may," "will," "expect," "intend," "anticipate," "believe," "estimate," "plan," "could," "should," and "continue" and similar terms used in connection with statements regarding the outlook of CleanseThatColon.
Such statements include, but are not limited to, statements about the benefits of the business combination transaction involving CleanseThatColon and its subsidiaries, including future financial and operating results, the combined companies' plans, objectives, expectations and intentions and other statements that are not historical facts. Such statements are based upon the current beliefs and expectations of the Company's management and are subject to significant risks and uncertainties that could cause the Company's actual results and financial position to differ materially from these statements. Such risks and uncertainties include, but are not limited to, the following: the ability of the Company to obtain and maintain any necessary financing for operations and other purposes (including compliance with financial covenants); the ability of the Company to maintain adequate liquidity; the impact of economic conditions; changes in prevailing interest rates; the ability to attract and retain qualified personnel; the ability of the Company to attract and retain customers; the ability of the Company to obtain and maintain commercially reasonable terms with vendors and service providers; the cyclical nature of the healthcare industry; competitive practices in the industry, labor costs, Insurance costs; weather conditions; government legislation and regulation; relations with unionized employees generally and the impact and outcome of the labor negotiations; the impact of global instability including the potential impact of current and future hostilities, terrorist attacks, infectious disease outbreaks or other global events.
The ability of the Company to fund and execute its business plan and other risks and uncertainties listed from time to time in the Company's reports. There may be other factors not identified above of which the Company is not currently aware that may affect matters discussed in the forward-looking statements, and may also cause actual results to differ materially from those discussed. The Company assumes no obligation to publicly update any forward-looking statement to reflect actual results, changes in assumptions or changes in other factors affecting such estimates other than as required by law.
###