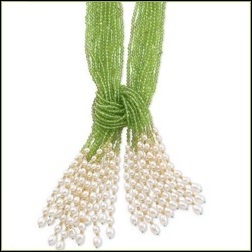 We get just as many phone orders as we do web, and we listen openly to our customers and their feedback
(PRWEB) October 11, 2006
Heavenly Treasures.com, the innovators of Peridot jewelry, reports a surge in sales due to increased popularity, exclusive designs and product expansion this fall.
Encyclopedia Wikepedia says Peridot has been found in Egyptian jewelry dating back to the early second millennium BCE. Anyone in recent years who thought that Peridot Jewelry was just a 'recent fad' and would soon wear out are now finding themselves scratching their heads. Few industries have benefited from the popularity of Peridot as the Jewelry industry. Online retailers of Peridot jewelry can now be found frequently, however, the largest and most exquisite selection is still found at the original Peridot Collection, HeavenlyTreasures.com.
HeavenlyTreasures.com, http://www.heavenlytreasures.com , was one of the first to bring the online world of Peridot Jewelry to fruition since their launch in 1999 and have congealed themselves as the online leader. Helen Beyda, Product Manager at HeavenlyTreasures.com, attributes the continuing success to their customer service dedication and their ability to keep expanding the product line to include the latest trends in Peridot Jewelry. "It seems like we're continually getting new designs and luckily we have no shortage of fresh ideas for this fine jewelry line." It now seems as though Heavenly Treasures is setting the trend and not just keeping up with it. This line now includes over 200 designs from Peridot Rings to Scarf Necklaces to Peridot Earrings including exclusive designs in 14k Gold & 18kt Gold that you can not purchase anywhere else.
In part to this jewelry line expansion, the current Fall season has been extremely prosperous for the website. The market expansion has also been responsible for the upsurge and as the fashion industry follows many celebrities are being seen wearing these collections. This growth is not only limited to the fine jewelry market, Heavenly Treasures is also accommodating those with a lower budget spend by introducing Peridot Bracelets cast in Sterling Silver. When asked how this lower budget began Beyda said; "We've been getting constant inquiries from people that want to purchase our fine designs but don't have the budget so we decided to accommodate them as well." Who better to supply that market than the pioneers in the industry.
Regarding customer service and quality control, Beyda tells us; "Our customers are absolutely the focus for our business. It quickly became apparent from the beginning that we would be dedicated to supporting them to the fullest extent". Policies such as 90 day returns and a lifetime warranty further backs Heavenly Treasures and their goal of being the most exquisite provider of fine jewelry. "We get just as many phone orders as we do web, and we listen openly to our customers and their feedback".
With the continued growth of fine jewelry and the continued expansion of the Heavenly Treasures line, this market is showing no signs of slowing and the continued growth for Peridot and other unique gemstones will only bolster the future for this retailer.
For direct inquiries, contact Helen Beyda at 732-531-8040
# # #