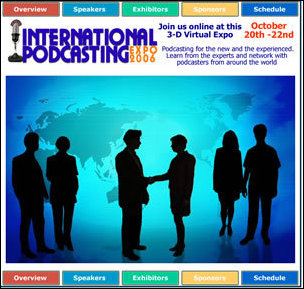 We are privileged to have the Agus with us, sharing their experiences both as reality tv participants, but also sharing about their experience with infertility
Canton, GA (PRWEB) October 13, 2006
In a world of reality TV shows that tend to focus on the worst side of people, it is wonderful to find a reality tv couple that exemplifies romanticism, selflessness and humility. Joyce and Uchenna Agu, million dollar winners of The Amazing Race, and spokespersons for the national fertility campaign, RESOLVE, have graciously agreed to be interviewed live at the Online International Podcasting Expo, October 20-22, 2006. Raven Blair Davis of Women Power Radio will be hosting this interview, which is open to the public.
Joyce and Uchenna Agu are an amazing couple. After having experienced a devastating and severe loss of both their jobs and life savings, they figured out a way to replace both nest eggs - they entered and won CBS's The Amazing Race. Physically fit, remarkably poised and incredibly engaging, they were labeled reality TV's sexiest and most romantic couple after the infamous head-shaving scene in which Joyce allowed her head to be shaved on national television.
Since winning the Amazing Race the bond between Joyce and Uchenna only gets stronger. Now spokespersons for the national fertility campaign, RESOLVE the Agu's are working hard to help provide education, advocacy and support for men and women facing the crisis of infertility. They do this as both an act of commitment and a personal journey since they too would like to have children. With the biological clock ticking for Joyce, the Agus are committed to doing what is best for them as they explore every option.
"We are privileged to have the Agus with us, sharing their experiences both as reality tv participants, but also sharing about their experience with infertility", states Penny Haynes, Organizer of the online International Podcasting Expo. "Anyone with an internet connection can attend this live interview and ask the Agus their questions, via text or with a headset microphone." The recorded podcast interview show will then be posted both at the International Podcasting Expo site and the Women Power Radio site.
For more information about their interview or about the International Podcasting Expo, go to http://www.InternationalPodcastingExpo.com.
###