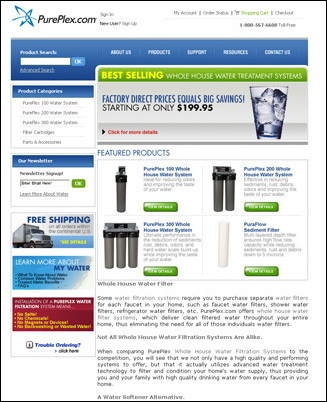 Our products provide our customers with a healthy, balanced lifestyle which ensures a higher quality and healthier life.
Temecula, CA (PRWEB) October 13, 2006
Consumer awareness of the potential for sediments, chlorine and other contaminants in common household tap water continues to rise as more water filtration products are promoted through nationwide advertising. Though most consumers who filter their water do so with faucet filters or filtration pitchers, there exists technology to clean all of a home's water at the source, producing clean, filtered water from every faucet in the house. With an all-new website at PurePlex.com, water treatment systems provider PurePlex is leading the charge to bring these whole house water filters to the approximately 80 million American households that can benefit from complete whole-house water treatment.
PurePlex home water filter systems use a proven and tested design and technology to efficiently reduce water contaminants and water hardness. The whole house water filter system requires a one-time installation in a home or business, after which the only routine maintenance is the occasional replacement of its water filter cartridges. Unlike many other water treatment systems, these whole house water filters do not require the use of any salts, magnets, chemicals or electricity.
PurePlex President Jeanette Pavel says that home water filter systems are a major part of a comprehensive personal maintenance and preventative care, stating, "Our products provide our customers with a healthy, balanced lifestyle which ensures a higher quality and healthier life." Water quality information on PurePlex.com states that these whole house water filters not only promote better health by producing safer water, but also through the peace of mind that families get from knowing that chlorine, contaminants, unpleasant odors and tastes are significantly reduced in the water they drink, bathe, cook, and wash with.
A major component of PurePlex's mission to provide whole house water purification to millions of American homes and businesses is its affordable pricing methods. Pavel explains, "We offer Factory Direct pricing which translates into wholesale prices, which are typically 50 to 70 percent less than what you would pay at the retail level and what our competitors are charging." By bringing the cost of whole house water filtration systems down to a level that most households can afford, Pavel and PurePlex hope to make a significant and positive impact on water quality nationwide.
PurePlex strives to improve their offer by including a one year warranty and a 30-day money back guarantee on all PurePlex whole house water filter systems, as well as complimentary standard shipping and insurance on all orders.
For home water filtration systems that purify an entire household's water supply at the source, please visit PurePlex.com.
About PurePlex:
PurePlex promotes healthy, balanced lifestyles through whole house water filtration systems that reduce sediments, chlorine, contaminants and water hardness at the main water source of homes and businesses. The result is safe, great tasting, purified water from every faucet.
###