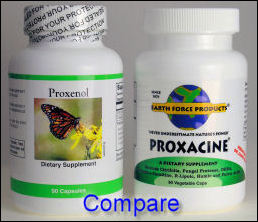 Dearborn Heights, MI (PRWEB) October 17, 2006
Proxacine is a new product offered by Think Healthy that adds to what Proxenol offered in the past.
Proxenol supplements are dietary aides that may help boost your immune system. This can help to delay the aging process considerably.
Proxenol also can help with aches and pains. Proxenol assist in rejuvenating your cells and organs. You can find Proxenol at 1ThinkHealthy.com/proxenol.html for further information.
An active ingredient in Proxenol is proxeronine which is an extract from the noni fruit. This substance releases pure xeronine when it comes in contact with an enzyme in Morinda Citrifolia.
It's believed that xeronine works at the molecular level repairing cells that have been damage.This is why Proxenol seems to benefit the aging and those with aches and pains.
Besides Proxenol there's another new product Proxacine that takes these benefits even farther. Proxacine contains most of the beneficial ingredients of Proxenol plus adds some others. Look at both and compare the two. There is a comparison chart at 1ThinkHealthy.com/Proxacine.html to study.
The next generation in morinda supplementation has been created by one of the most prolific health researchers and educators in the world today. Dr. James Chappell.
Whichever one is chosen the benefits of more energy, longer endurance plus more pain free days is likely. Feedback has been very positive with both Proxenol and Proxacine.
An age-retarding enzyme called Proxeronine of which Morinda Citrifolia contain 40 times more than any other food in all the world, has been demonstrated in a series of clinical studies that it may help rejuvenate the cells, glands and organs in human beings. Morinda Citriflora is one of the main ingredients in Proxenol.
Morinda Citrifolia has been used for medicinal purposes by Polynesians for thousands of years. They believe it is a beneficial substance.
Morinda Citriflora a native plant of the tropics has been extensively used for over 2000 years. Herbalists over centuries used it for joint stiffness, digestive distress, weak immune systems, and as a heath tonic. Morinda Citriflora is loaded with nutritional phytonutrients and vital enzymes, which energize and protect your body.
This is the proven formula that is literally helping thousands of people recapture that youthful feeling and actually fight the ravages of time on their bodies.
The doctor developed formula with the potent combination of proven pharmaceutical grade nutrition that combines not only natures top anti-aging defending nutrients, but also energizers and immune system protectors.
You can find information about Proxenol and Proxacine at http://www.1ThinkHealthy.com/proxenol.html
# # #