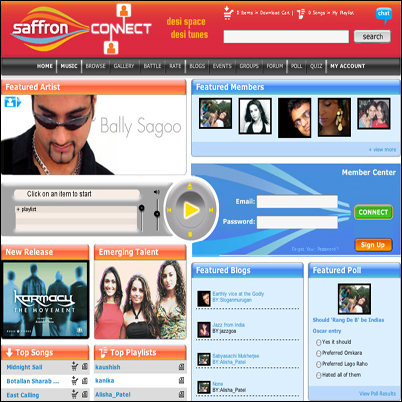 New York, NY (PRWEB) October 17, 2006
Looking for the latest Bollywood songs online? Want to learn more about favorite South Asian artists? Finally, there's a 'Desi Space' with 'Desi Tunes.' SaffronConnect.com (http://www.saffronconnect.com)], the primary online social networking platform centered on audio and video content from the Indian sub-continent, announces its official launch. Saffron Connect is focused on serving the global South Asian market and seeks to be the first-of-its-kind online music and social networking destination directly targeting the South Asian community. It will provide innovative content and entertainment services through online, mobile, emerging, and traditional distribution channels.
SaffronConnect's tagline ' Desi Space, Desi Tunes ' sums up the company's vision - to become a key online destination for South Asians. In terms of content, SaffronConnect.com will include a range from established bands to upcoming artists, major music labels to independent producers. The ' Desi ' or South Asian market includes the residents of India, Pakistan, Tibet, Nepal, Sri Lanka and Bangladesh, as well as the non-resident community who live around the world.
Key Highlights of SaffronConnect.com include:
-- A platform that creates a hybrid of "MySpace" and "iTunes" for the South Asian market – allowing independent artists, music labels and video content owners to upload, share and sell their content to a community of users with interests in South Asian media. Users, in turn, will be able to sample, hear, download and share songs among their friends and other members. Some key artists whose content is currently available on Saffron Connect include Bally Sagoo, Rishi Rich, Gunjan, Karmacy, and Bohemia. Content from Saffron Connect will also be distributed to services such as iTunes, Yahoo Music, and more.
-- User engaging modules that integrate web profiles, blogs, instant messaging, e-mail, music downloads, photo galleries, classified listings, events, groups, chat rooms, and user forums to create a connected community facilitating social networking for South Asians.
The main features of the site include:
Music: Members can search, play, and download music based on albums, new releases, genres etc. Artists can upload music for sale and distribution.
Browse: Members can search for friends, update profiles, chat, and see who is online.
Gallery: Members can post photographs to be viewed by other members
Rate: Members can rate photographs and users.
Blogs: Members can post blogs as well as share thoughts and ideas.
Events: Members can post and browse city specific events.
Groups: Members can join different groups based on interests, etc…
Forum: Members can post questions and initiate discussions.
Poll: Members can post questions online and get feedback.
-- Creation of a South Asian social networking portal centered on audio and video content.
-- A management team with extensive online and business experience coupled with vast music industry background from the Indian subcontinent.
SaffronConnect.com plans to enhance and support the existing infrastructure and content as well as tap into additional distribution to create an ideal foundation on which the company can meaningfully increase its online presence.
To generate consumer awareness, SaffronConnect.com will launch a consumer marketing campaign, including television, print, radio and outdoor, as well as viral marketing and it plans to roll the service out globally later in the year. Such activities will happen simultaneously in both the US and India.
On the other hand, SaffronConnect.com will also attract companies looking to reach the South Asian consumer through its single gateway by offering them attractive marketing opportunities both online and offline. Social Networking sites are on the cutting edge of innovation, giving advertisers access to the most tech savvy, plugged in South Asian youth around the world.
About SaffronConnect.com
SaffronConnect.com is a music and social networking destination focused on serving the global Desi market. The activities of SaffronConnect are conducted principally in the United States, the United Kingdom, and South Asia.
For further information, please visit http://www.saffronconnect.com
Press Contacts:
Peepul PR
Sri Bhattacharya/Gayatri Hingorani
646.495.6223
High resolution pictures are available upon request.
###