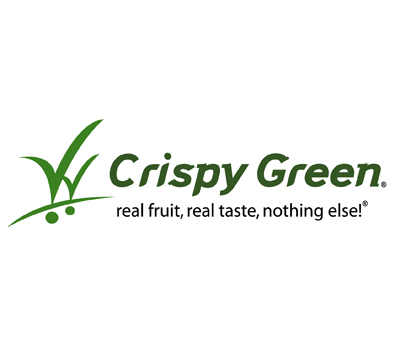 one of the hits of the season!
West Orange, NJ (PRWEB) October 16, 2006
Crispy Green Inc., the maker of Crispy Green® Crispy Fruit high-quality freeze-dried fruits snacks with 40 or less calories per serving, today announced that the southeast division of Whole Foods Market® (WFMI), a dynamic leader in the quality food business and Harry's Farmers Market®, an Atlanta-based Whole Foods market mega store, have added the Crispy Green Crispy Fruit snack product line, which includes Crispy Apples, Crispy Apricots and Crispy Peaches to the shelves at select Whole Foods Markets and Harry's Farmers Market stores located throughout Georgia.
Available in single-serving .36 ounce packages, Crispy Green Crispy Fruit products are made from 100% high-quality freeze-dried fruit with no additives or preservatives. Each serving is only 40 calories or less and one serving of Crispy Fruit equals approximately one serving of fruit. These light, crisp, all-natural dried fruit slices are packed with explosive fresh fruit taste that will put you into a state of bliss – you'll never feel this good about snacking again.
These moisture-free, convenient single-serving packages are the ideal "emergency snack" and perfect to keep in a briefcase, backpack, overnight bag, carry-on luggage, purse, school locker or child's lunchbox. Crispy Fruit is the snack for all occasions and puts a healthy, natural fruit conveniently at your fingertips anytime.
"We are excited to add Whole Foods to our distribution network. This is a very significant milestone for our business," says Angela Liu, President and Founder of Crispy Green. "Many customers who inquire about the availability of our Crispy Fruit products often associate our products with Whole Foods and now we have honored our customer's request and have made it a reality. Crispy Fruit products are an excellent match to the Whole Foods product portfolio which emphasizes only the highest-quality, natural, healthy products."
Crispy Fruit products are available at Whole Foods locations in Atlanta, Briarcliffe, Duluth, and Sandy Springs and Harry's Farmers Markets in Alpharetta, Marietta and Roswell. Unique Foods is the distributor of the Crispy Fruit products for the southeast Whole Foods Market. "The southeast region has proven to be a great market for our Crispy Fruit products. Whole Foods is the second chain of stores in that region to carry our products. The Fresh Market, have been selling our products since June of this year," adds Liu. Crispy Green is also working with Whole Foods in other regions to expand its product distribution within the Whole Foods Market. Crispy Fruit products are available at The Fresh Markets located in Alpharetta, Atlanta, Augusta, Dunwoody, Marietta, Savannah and Suwanee.
Crispy Green launched its first three Crispy Fruit products – Crispy Apples, Crispy Apricots and Crispy Peaches in September 2005. Recently, The Today Show food editor Phil Lempert named Crispy Fruit as "one of the hits of the season!" In August 2006, TIME Magazine named Crispy Fruit as one of four new, healthier foods for kids. Bonnie Carroll's Life Bites online magazine says, "This is a snack that is loved by children, busy executives on the go, or anyone who wants healthy food and a fast, delicious snack." Crispy Green has quickly won fans among health and quality-conscious consumers.
New Flavor Coming Soon
Crispy Fruit plans to add new Crispy Pineapples to its tasty Crispy Fruit product line. Look for the new product in November at supermarkets, natural and health food stores and other fine food stores around the country. A complete list of retailers is available at http://crispygreen.com/storelocator/main.html. Please send us an email at info@crispygreen.com if you would like to add your favorite retailer(s) to our distribution list. Crispy Green can also be purchased online at http://www.crispygreen.com/onlinestore.html.
About Crispy Green
Crispy Green Inc. (http://www.crispygreen.com) is the maker of Crispy Fruit freeze-dried fruit snacks sold under the brand Crispy Green® and a leader in this category of products. The company was founded in August 2004 with a core mission to provide delicious, healthy and wholesome snacks using the best natural ingredients with no artificial flavor enhancement.
The Crispy Fruit line of snacks are made of real fruit, real taste, and nothing else!® A sophisticated freeze-drying process removes the water from fresh, sweet fruit, leaving behind the fruit's true essence in a light and crispy texture that's prefect for snacking. Crispy Green Crispy Fruit are a delicious, convenient way to add more fruit to your daily diet.
In the 2005, Crispy Green introduced Crispy Apples, Crispy Apricots and Crispy Peaches in the United States. It plans to add 2-3 new items to its product line each year for the next three years along with its rapidly growing distribution footprint.
# # #