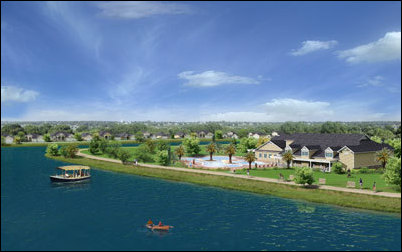 That gives us even a greater responsibility to be good stewards of this land and our shoreline
Mount Dora, FL (PRWEB) October 18, 2006
An innovative new approach to site development, energy efficiency, selection of materials, water conservation and construction practices – which have a lower, more ecologically-friendly impact on vital resources – is being incorporated by Pringle Development in the creation of their new community Lakes of Mount Dora.
"In addition to all our homes being built to Energy Star specifications (tankless water heaters, energy-efficient windows, 14 seer air conditioning units, and so forth), we're incorporating 'green' best practices in areas such as landscaping and irrigation," said Pringle Development Marketing Manager Matt Conrad.
"We are significantly increasing the efficiency of our homes and the cost savings for homeowners while reducing the impact on the environment. The net result is more comfortable homes, which use less energy and resources, and contribute to water and air quality. It's a win/win situation."
With the guidance of Master Gardener Teresa Watkins, coordinator of Central Florida's Florida Yards and Neighborhoods program, a University of Florida/IFAS Extension, Lakes of Mount Dora will incorporate water-efficient Empire Zoysia grass and Florida-Friendly plants, shrubs and trees to create beautiful landscaping and natural buffer areas for their homes. Plants and trees will be grouped according to their watering needs to conserve water. By fertilizing appropriately and controlling yard pests responsibly, Pringle will help decrease stormwater runoff and non-point source pollution.
"A community wide, state-of-the-art irrigation system will constantly monitor the weather to provide the most effective watering possible," said Watkins. On the drawing boards is a wildflower habitat with gazebo on the canal islands. "This will not only be aesthetically beautiful for homeowners to look at but will also enhance the wildlife habitat," she said.
"Approximately 70 percent of the 950 homes in this community will be on the water," said Conrad. "That gives us even a greater responsibility to be good stewards of this land and our shoreline," he added.
For more information about Lakes of Mount Dora, visit http://www.lakesofmountdora.com or call Pringle Development at 800-325-4471.
###