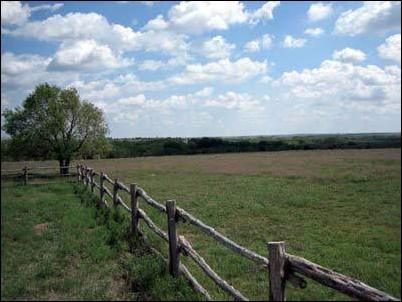 We're certainly excited to offer such a unique property at absolute auction. This large tract is very diverse and offers excellent opportunities ranging from agricultural operations to recreational activities, including hunting. This is truly a one-of-a-kind opportunity to own all or part of such a high quality piece of Texas ranchland
Lakeland, FL (PRWEB) October 18, 2006
Higgenbotham Auctioneers announced today that they will be offering at auction Ben Hill Griffin Inc's., (BHG) 2,560 acre Texas cattle ranch. The auction is scheduled for 1pm, Thursday, November 30th.
Owned by BHG since 1997, the property has served as their sole Texas ranching operation and is located in the Texas panhandle just west of Mobeetie, which is about 75 miles north and east of Amarillo.
Concerning the Mobeetie property, Ben Hill Griffin, III, the Company's CEO and Chairman of the Board, stated "the Texas ranch has been a highly productive asset of Ben Hill Griffin, Inc.'s Ranch Division and has provided not only excellent grazing but farming and hunting as well. However, due to a strategic decision requiring more focus on the Florida operations, a decision was made to sell the Texas holdings".
The property will be offered in 11 parcels ranging from 160 to 320 acres and will be sold at absolute auction, meaning that it will sell to the last and highest bidder, regardless of price.
According to John Haney, Auction Manager for Lakeland, Fla. based Higgenbotham Auctioneers "We're certainly excited to offer such a unique property at absolute auction. This large tract is very diverse and offers excellent opportunities ranging from agricultural operations to recreational activities, including hunting. This is truly a one-of-a-kind opportunity to own all or part of such a high quality piece of Texas ranchland".
The property is fenced and cross-fenced and comes complete with overhead irrigation equipment, several high output irrigation wells and a recently renovated and fully furnished ranch home.
The auction will be held on site. Potential bidders are encouraged to contact Higgenbotham Auctioneers to receive a sales brochure and due diligence package. Higgenbotham can be reached at 1-800-257-4161 or on the web at Higgenbotham Auctioneers Web Page
Founded in 1959, Higgenbotham Auctioneers International utilizes the auction method of marketing to sell real estate throughout the United States and the world. Higgenbotham's success is attributed to the company's stellar track record in marketing unique properties and the firm enjoys continuing relationships with Fortune 500 clients such as Alcoa, Wal-Mart, and Albertson's Supermarkets, as well as many other publicly traded and closely held companies.
Ben Hill Griffin, Inc. is a privately held Florida agribusiness corporation having interests in cattle, citrus, farming and fertilizer production.
###