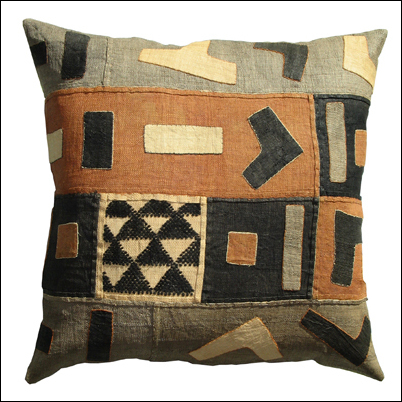 Little by little, fills the pot.
Elgin, IL (PRWEB) October 17, 2006
Haba Na Haba announced today the launch of their new line of home décor items supporting craftswomen in both Tanzania and the war-torn Democratic Republic of the Congo. This new line features traditional new and vintage Kuba ceremonial cloth handwoven by women escaping from the civil war in the Congo, and sold by crossing the border into Tanzania. Haba Na Haba's manufacturing partner in Tanzania has supported these Congolese women by purchasing the Kuba cloth and honoring them by creating beautiful home décor items. Their products include pillow covers and wall hangings that are now available from Haba Na Haba's online e-commerce site, http://www.habanahaba.com. These pillow covers feature the unique Kuba cloths in a wide variety of traditional abstract designs that have for years influenced the artwork of artists such as Henri Matisse, Pablo Picasso and Paul Klee and are a favorite of collectors throughout the world.
Haba Na Haba and their Tanzanian partners are helping support Congolese women and their children by selling their handwoven Kuba cloth. The Congolese travel through dangerous areas of eastern Congo and cross the Tanzanian border to sell their wares. According to CNN's report on Anderson Cooper 360° (October 3, 2006), 3-4 million civilians have been killed over the last 8 years in the Democratic Republic of the Congo's civil war. Large areas of the eastern region of the Congo are still under control of corrupt military units and rebel factions who have conducted widespread rapes and murders of the Congolese people. There are over 600,000 AIDS orphans in the Congo today.
Haba na haba, hujaza kibaba is a Swahili proverb that translates to "Little by little, fills the pot." Haba Na Haba's mission is to help empower at-risk teen AIDS orphans, one by one, to learn trade skills in hopes of becoming self-supporting and lead healthy, productive and happy lives. Haba Na Haba supports companies that offer training and jobs to these young adults in an effort to break the poverty cycle and provide a future for
orphaned teens of whom would otherwise have little hope for a prosperous future. To qualify as a trading partner, these Tanzanian companies must offer training in trade skills, pay fair wages and not hire children.
Haba Na Haba will continually feature on their website new types and styles of Tanzanian products from like-minded manufacturers. In addition to supporting existing businesses with this business model, Haba Na Haba also directly trains young adults in trade and business skills and donates part of its profits to support other AIDS orphan and AIDS health programs in Tanzania.
Contact info: info @ habanahaba.com, http://www.habanahaba.com or Media contact: Beth Peterson at 847-931-9375 or 888-439-9375 or beth @ petersonmktg.com.
####