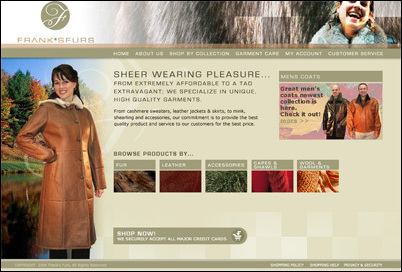 People drive as far away as five hours to come to the store. The Web site was created to better serve our customers
(PRWEB) October 17, 2006 -–
Despite persistent grumbling over the economy, more middle-class consumers are seeking upscale commodities, such as designer duds and gourmet foods once reserved for the rich. So much so that mom-and-pop shops dealing in these so-called "affordable luxuries" need new avenues, such as Internet retailing, to meet the demand.
One such retailer is Frank's Furs Ltd. in Bathurst, New Brunswick, Canada. After 45 years of selling fur jackets, fur capes and other winter clothing out of their storefront, owners Dimitrios and Monique Karatzios felt compelled to take the business online. The couple launched a Web site as a resource for buyers of fur and leather jackets and fine clothing.
"People drive as far away as five hours to come to the store. The Web site was created to better serve our customers," Dimitrios Karatzios said. "Not only does it display the products in the store, it has a lot of information for customers on how to take care of their garments."
In conjunction with the founding of the user-friendly Web site, Frank's Furs overhauled the company logo with new colors and a fresh look. The Karatzios hope the changes will help their loyal customers and would-be shoppers easily navigate their wide selection of fur leather clothing and accessories.
"There's a large catalog of products on the site," Dimitrios Karatzios said. "The Web site can better display the products we have in inventory."
Boasting the "largest selection of fashion coats in Eastern Canada," Karatzios said Frank's Furs offers shoppers everything from sought-after rabbit fur jackets, fur lined jackets and fur capes to the hard-to-find fur wedding cape for the bride-to-be.
Getting the word out about Frank's Furs line of domestic and imported clothing and accessories wasn't easy with a storefront-only experience. The company's offerings encompass not only fur hooded jackets and mens and womens fur trimmed capes and wraps, but also fine wool, microfibre and shearling products. That range requires a venue that allows shoppers to browse at their leisure.
For the Karatzios, online was the only way to go.
And, now customers can indulge in the opulence of fur jackets and the must-have fur cape of the fashion season without the grueling commute.
About Frank's Furs:
Frank's Furs owners Dimitrios and Monique Karatzios have more than 45 years of experience in the fur, leather and clothing industry. The two established the business with an 800-square-foot facility in 1965, and now have more than 11,000 square feet of showroom. The Karatzios' have a reputation for understanding their client's needs, and their business model of respect for their clients and fulfilling their needs for quality and affordability is reflected in their motto, "To Please the Customer."
###