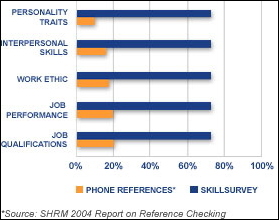 TalentTrack can now offer every client a proven process for high impact reference checking
WAYNE, PA (PRWEB) October 17, 2006
SkillSurvey, Inc., the leading provider of intelligent web-based reference checking solutions, and TalentTrack, a leading national provider of recruitment outsourcing solutions, today announced a partnership enabling TalentTrack to offer its clients a best-of-breed solution for job candidate reference checking that is proven to increase quality of hire and process efficiency.
TalentTrack's recruitment outsourcing solutions combine world class intellectual capital and cutting-edge technology platforms to consistently deliver exceptionally qualified job candidates to its clients. SkillSurvey's web-based reference checking solution will augment TalentTrack's diligent sourcing and screening processes to ensure that recruiters and hiring managers can validate each candidate's capabilities and past job performance via a reliable and expert third party resource; their professional references.
A proven and scalable platform for acquiring confidential and skills-based feedback from multiple references, SkillSurvey's fully-automated solution delivers comprehensive reports within 48 hours and requires no phone calls by recruiters. The reports consistently provide more valuable information than traditional phone references, enabling more informed and efficient hiring.
"TalentTrack is known for identifying and adopting best practices to identify and select top talent for our clients," says Kim Davis, president of TalentTrack. "SkillSurvey makes reference checks strategic to the hiring process. Now we can efficiently and effectively validate candidates' professional skills and behaviors before submitting a slate of candidates to our clients. That level of quality assurance simply was not available before. It will help us differentiate between candidates and enable our clients to make consistently more accurate hiring decisions."
"TalentTrack can now offer every client a proven process for high impact reference checking," says Jim Ray, vice president of business development of SkillSurvey. As a leading RPO, they are pro-actively solving another pain point for their clients and adding additional value to their service offerings. The result will be more business won and even higher client satisfaction. This year, TalentTrack is on pace to make 12,000 hires. There's no way to do that number of reference checks via phone in an effective and efficient manner. SkillSurvey makes it possible."
About SkillSurvey
SkillSurvey is the leading provider of online reference assessment solutions that increase quality of hire and eliminate time wasted in the recruiting process. Using SkillSurvey, organizations improve the quantity and quality of information they collect regarding a candidate's past performance, resulting in a significant reduction in time and money spent on reference checking. This breakthrough approach to reference assessments is patent pending, and based on a proprietary online process and over 25 years of research in job competency modeling. To learn more, visit http://www.skillsurvey.com.
About TalentTrack
TalentTrack is a national provider of comprehensive end-to-end talent management solutions, primarily recruitment process outsourcing. The company provides a unique blend of customized high-touch and high-tech talent applications. TalentTrack's distinctive strategies – a combination of world class intellectual capital, cutting edge technology platforms, and other related tools – deliver best in class results, guaranteed, to help clients win the "war for talent." Headquartered in Toledo, OH, TalentTrack was founded in 2002 and has grown from a staff of two to almost one hundred people and anticipates placing well over 12,000 hires for its clients by the end of 2006. In June of 2006, TalentTrack was awarded the Ernst&Young Entrepreneur of the Year Award in the Great Lakes Region for the emerging business category. To learn more, visit http://www.talenttrack.com.
Contact:
Erika von Hoyer
SkillSurvey, Inc.
(610) 422-3533 (b)
(610) 761-8546 (c)
Lisa C. Ovenden
TalentTrack
(419) 720-1416 (b)
(419) 297-5639 (c)
This press release was distributed through eMediawire by Human Resources Marketer (HR Marketer: http://www.HRmarketer.com) on behalf of the company listed above.
###