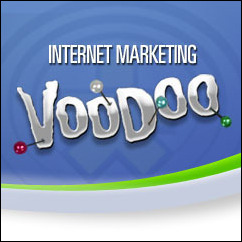 Ted put Internet Marketing Voodoo on the map in the business podcasting industry with its candid show format, quality and world-renowned guests
Orlando, FL (PRWEB) October 17, 2006
MindComet Corporation, a full service interactive agency, today announced President and CEO Paul Lewis to take over the hosting reigns of their popular business podcasting series Internet Marketing Voodoo (IMV). Lewis is replacing Ted Murphy, former president/CEO and IMV voice since January 2006. Lewis' first podcast "Enterprise Blogging" featuring corporate blogging software company iUpload CEO Robin Hopper launched today.
Murphy wrapped up his hosting gig on a high note, after producing over 30 episodes for the series, with his farewell show on Monday, October 2nd featuring Mark Naples, managing partner of WIT Strategy. The two thought leaders discussed user generated content, a movement Murphy incorporated into MindComet's sister company, PayPerPost. Murphy will continue his presence in business podcasting by hosting a PayPerPost related spin-off series launching this November.
Highlights under Murphy's direction included episodes surrounding best practices and strategies on:
Email marketing with Jeanniey Mullen and Paul Beck, co-founders of the Email Experience Council;
Mobile marketing with Jamie Wells, managing partner of TCS Mobile;
Integrated promotions with Lisa Jenkins, electronic marketing manager for the House of Blues;
Web Analytics with Avinash Kaushik, senior manager of web research and analytics for Intuit;
RSS with J.B. Holston, president and CEO of NewsGator;
Customer relationship management with Ginger Conlon, editor-in-chief at 1to1Media and in a later interview with Art Hall, vice president of customer care operations at NetBank.
"I was fortunate to interview widely respected names in Internet marketing and a diverse group of authorities on emerging digital communication channels, " said Murphy. "Paul shares that same excitement and passion as a technologist himself and the caliber of guests he has lined up will continue to provide that strategic insight valuable to our audience. I'm certainly looking forward to listening in and following the growth of the show."
In addition to Lewis' first episode on enterprise blogging, upcoming highlighted podcasts will feature one-on-one interviews with Anastasia Goodstein, publisher of Ypulse.com and author of Totally Wired, a book about teens and technology to be published by St. Martin's Press in March of 2007; and Robin Kent, CEO of SpiralFrog, an online music destination offering ad-supported legal downloads of audio and video content debuting in December of this year.
"Ted put Internet Marketing Voodoo on the map in the business podcasting industry with its candid show format, quality and world-renowned guests," said Lewis. "Taking over from here, I'm excited to continue the level of excellence that was established and cover the emerging trends, digital channels and evolving advertising strategies that our listeners must keep attune with. We want the show to be a knowledge repository of Internet marketing strategies for anyone in the industry, both business-to-business and business-to-consumer."
Paul Lewis has presented across the world providing insight on Generation Y, enterprise blogging, e-marketing and behavioral targeting. In addition to his new role as president/CEO and host of IMV, Lewis is currently authoring the soon to be released "Y: Outside the Polls and Inside the Minds of Millennials", a research initiative and publication into the marketing strategies for reaching the highly segmented and desirable Generation Y.
For more information:
Subscribe to the Internet Marketing Voodoo Podcast in iTunes
Or
About Internet Marketing Voodoo
Internet Marketing Voodoo is a business podcast dedicated to the discussion of Internet marketing techniques and technologies. Join host Paul Lewis each week as he explores subjects including online business strategies, search engine marketing, mobile marketing, email marketing, podcasting, business blogs, loyalty programs, affiliate networks, online communities, traffic building, analytics and more. Each episode features an industry expert guest or panel including Fortune 500 brand managers and executives, online marketing thought leaders and world-renowned authors. http://www.internetmarketingvoodoo.com.
About MindComet
MindComet is a unique mix between an interactive marketing consulting firm, an interactive agency and a marketing technology developer. We have implemented relationship building marketing, communications and eLearning solutions for many Fortune 500 companies including Coca-Cola, Tyco, Nextel, General Motors, Hewlett-Packard, UPS, Walt Disney and others. Our team delivers an unparalleled combination of strategy, creativity and technology to produce solutions that deliver results for our client partners. http://www.mindcomet.com.
# # #