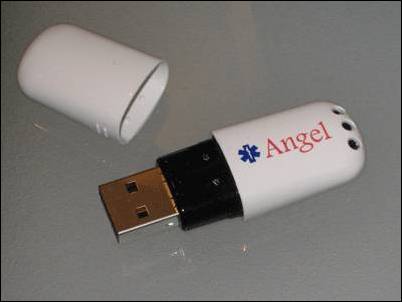 In an emergency, ordinary information like allergies, previous medical events and current medication dosages are seemingly impossible for the injured to remember. Medical records are somewhere else, patients and family are scared, worried and their doctor's office is closed
Los Angeles, CA (PRWEB) October 17, 2006
To address the growing need for urgent access to personal health histories and records, Angel Technology today announced the launch of a suite of mobile emergency medical information products, including Angel Key, a portable device that first responders plug into a PC's USB port.
"In an emergency, ordinary information like allergies, previous medical events and current medication dosages are seemingly impossible for the injured to remember. Medical records are somewhere else, patients and family are scared, worried and their doctor's office is closed," said John Bryant, president and co-founder of Angel Technology.
Angel personal medical profiles provide the needed information through a simple online interview. The information is then automatically structured as a medical 'Blotter' online that can be duplicated onto an Angel device. In an emergency, first responders can access the crucial information through the Internet (Angel Online), by cell or landline phone (Angel Voice), or by inserting the Angel Key directly into on-board personal computers.
"In an emergency, your personal medical records are always somewhere else. Approximately 93 percent of people treated in the ER have no medical data or history available, and the ER does not have a system or means of accessing their records or data in an emergency. With Angel's suite of products, life-saving medical information is easily accessible all the time, through many different means of access," continued John Bryant "We allow anyone to carry all or select medical information with them, including advanced directives and organ donation preferences. Angel ensures that, in an emergency, Angel carriers have the crucial information that first responders need to provide immediate medical care. Basically, if you can't speak, Angel speaks for you."
Angel Key, a special USB device resembling the popular USB memory sticks, plugs into any PC. The owner's personal health information is then automatically displayed to paramedics, firefighters or healthcare professionals. Most metropolitan police, fire and rescue vehicles have on-board computers. However, having Angel information in rural areas is equally important due to the time and distances and services available.
Angel devices automatically launches the owner's 14 critical facts that emergency workers need to know, such as allergies, blood type, medications, and existing medical conditions without providing names, addresses or other sensitive information if the Angel were lost or stolen.
With all Angel products, Angel owners get accessories to use to alert healthcare professionals in an emergency. There are stickers for licenses, passports, helmets, windshields, wallet cards and key fobs that direct first responders to find the owner's Angel. There are even temporary tattoos to apply for trips and camp that tell a healthcare worker what number to call in an emergency.
"Big investments are being made nationwide in our first responder networks. Police cars, ambulances and fire rescue trucks are gaining powerful on-board computing systems. Angel provides those systems with the immediate life-saving data that allows our first responders to do their best work.," Bryant said. "Once an Angel carrier is stabilized in an emergency situation, additional information can be accessed online depending on what the Angel carrier provided during the interview process."
Prices for Angel's products range from $39.99 for online access to $79.99 for a bundled offering. The information carried on Angel is not part of a global network of databases of pharmaceutical insurance or other companies with medical affiliations. It is not shared with clinics, HMOs, hospitals, banks or employers, which puts individual in charge of their information.
Angel is a product of Angel Technology that is headquartered in The Woodlands, TX. To learn more about Angel, please visit http://www.angelpowered.com.
###