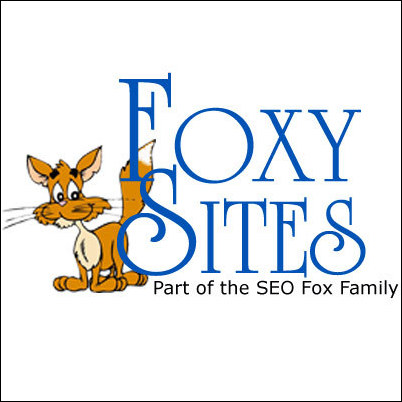 Kissimmee, FL (PRWEB) October 17, 2006
SEOFox.com has had phenomenal success as a full service web-marketing firm. With success comes the need for growth and that time is now. While SEOFox.com offers a full range of marketing, web design and copywriting services we found the need to launch FoxySites.com to handle the needs of our clients who's need is more specifically web-design than full service marketing.
The team at SEOFox.com offers a full range of marketing services to ensure that every client has a fair chance in competing with larger businesses online. The same great talent and experience is ready to meet your needs with FoxySites.com services targeted more to professional web and graphic design.
When you use our services at FoxySites.com you not only get top notch graphic and website design. You will receive the full benefit of our experience as a professional marketing firm. No matter which of our packages you need we will be glad to offer input and use our experience to your advantage.
There are many companies and freelancers that offer top quality design services but most of them lack experience in marketing, branding and an understanding of what really sells a product or service. With FoxySites.com you will have the advantage of our marketing savvy. For many years we have worked to build many successful business ventures on the Internet. We have enjoyed great success across a wide array of business-to-business ventures and have learned the "secrets" to building web-presence that works.
We do not just build a good looking website that can impress your friends and family. When you use the services offered at FoxySites.com you will have a website that is tailor made for you specific industry using colors and design elements that are known to drive the surfer to a desired action. Do you need a web presence to drive customers to your brick and mortar shop? Do you need a website to sell a web based service? No matter what your need we know what it takes to get results.
We are a full service web design company that is able to build your websites to industry standards and more. Not only can we design attractive websites that deliver results, we also provide graphic design services. You may need professionally designed logo, marketing materials, posters, advertising materials and more. Unless your business is 100% online you will benefit from having your website and offline tools designed by the same firm. For instance many restaurants have turned to the Internet to gain additional exposure. Think how great it would be to have your menu and other promotional materials designed by the same company.
FoxySites.com and SEOFox.com are made up of experienced web designers, web application developers, graphic artist, copywriters and Internet marketers. Please visit FoxySites.com to see our full range of web design services and SEOFox.com to learn more about our full range of marketing services.
# # #