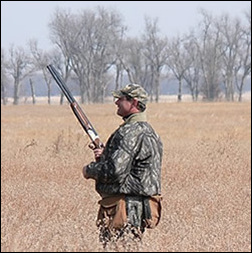 Our Goal at Pintail Farms is to make your hunting trip the best experience of your life, one that you will never forget.
Allen, TX (PRWEB) October 19, 2006
Pintail Farms has announced that they have completed a number of improvements for the Fall Hunting Seasons:
Flooding of the new lakes

Installation of new blinds
Feed sources were planted and are mature
Construction of a new hunting lodge
Launched a new website
Texas Wetlands Reserve Program
As a member of the Texas Wetlands Reserve Program, Pintail Farms land has been designed to attract migratory waterfowl. During the off seasons, wetland restoration activities involved construction of low level earthen dikes and water control structures. The property has flooding and drainage water control systems throughout, allowing ease of water level management. Waterfowl and hunters alike have over 30 lakes ranging from 6 to 80 acres to choose from. The recent heavy rains in the region have helped saturate the expanded wetland areas.
Installation of New Blinds
Recent preparations for Duck and Goose Season include the installation of 9 new blinds around the lakes.
Feed Sources
Pintail Farms is managed to attract game of all kinds. Membership options not only include waterfowl, but they also offer upland game bird, deer, feral hog hunts and more. Feeders have been strategicaly placed around the property. Two thousand pounds of millet and smartweed were planted and are mature. Ten acres of feed plot seed were planted and acres of dove weed have been shreded.
Construction of New Hunting Lodge
The new hunting lodge is a magnificent hunter's home away from home, with all the amenities you could expect. The lodge is designed to sleep 54 hunters and has already hosted some great "Corporate Hunts".
The new lodge has a state of the art professional chef's kitchen, an 80 inch flat screen TV in a comfortable lobby, and a huge deck to watch the ducks and geese funnel in the fields each evening with a fire pit to set around and share hunting stories.
New Website
Pintail Farms just launched an extensive new website with many features hunters have requested. Some of the features you will find on the new website include:
Field Reports – Hunting Reports updated weekly during hunting season
Hunter's Resources – Links to handy tools and resources for hunters
Hunting News – Several Pages of dynamically updated Hunting News from top sources around the internet
Hunting Articles – Dynamically updated with new articles all the time
Outdoorsman Articles – Fresh articles on the "Great Outdoors"
Photo Gallery – A complete overview of Pintail Farms, the lodge, the property, hunters, game camera shots and much more
"Field Reports" is a very popular new addition to the Site. New Field Reports are published weekly during the hunting seasons and include a number of photographs. Visitors enjoy every new Hunting Report, which is typically published on Monday or Tuesday of each week. Pintail Farms publishes authoritive Hunting Reports for the North Texas Region.
At this time all indications point to one of the best Waterfowl Hunting Seasons that North Texas has seen for some time. The heavy rains have filled the lakes and wetlands. Food sources are abundant and the repeated early cold fronts have been driving the migratory waterfowl through 2 to 3 weeks early.
Pintail Farms Management extends their wishes to everyone for an enjoyable and safe hunting season. Please remember to observe safe firearm handling practices.
According to Mike Jolley (Managing Partner) : "Our Goal at Pintail Farms is to make your hunting trip the best experience of your life, one that you will never forget."
Mike Jolley: 972-562-5001
Rockie Martin: 214-478-5047
Toll Free: 800-508-4245
Pintail Farms LLC.
###