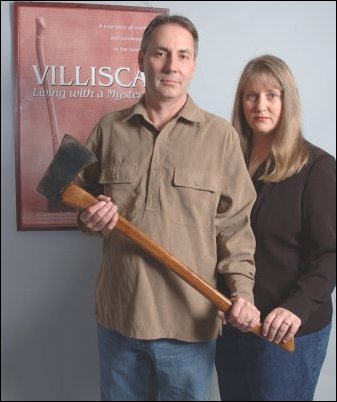 Villisca: Living with a Mystery
Los Angeles, CA (PRWEB) October 18, 2006
What happens when murder visits a small town and remains a mystery? After over 14 months in theaters in 52 cities, the award-winning and critically-acclaimed independent documentary film "Villisca: Living with a Mystery" will be released nationally on DVD on October 24, 2006 through Passion River Films.
When an entire family was murdered on a June evening in 1912, a small Midwestern town spiraled into chaos and division. The still-unsolved axe murder mystery made national headlines, built and ruined political careers, created a lasting community split over the guilt or innocence of a local State Senator, and produced three sensational trials.
"Villisca" tells the epic true story of Iowa's worst mass homicide, the Villisca Axe Murders. This true-crime mystery is more mystifying than America's Lizzie Borden and more intriguing than London's Jack the Ripper.
Tens years in the making, filmmakers Kelly and Tammy Rundle teamed with noted historian Dr. Edgar Epperly and gathered dozens of hours of footage featuring the infamous axe murder house and murder weapon, a period steam train, bloodhounds, and over 50 interviews with historians, eyewitnesses, and forensic experts including former FBI Special Agent and profiler Robert K. Ressler, the man who coined the term "serial killer."
The Rundles collected hundreds of previously unseen period photographs, unearthed a forgotten axe murder case file, successfully petitioned a judge for access to 5,000-pages of secret grand jury testimony, reviewed dusty Attorney General's files, and traveled to the sites of similar unsolved murders in Monmouth, Illinois; Ellsworth, Kansas; and Colorado Springs, Colorado in search of one of America's early serial killers.
With the axe murder house a museum, and ongoing interest from media producers and paranormal enthusiasts, some think the murder is still haunting Villisca today. The filmmakers gained the support and cooperation of Villisca residents and relatives of the axe murder victims. Several gave interviews and attended the film's premiere where nearly 2000 people saw the film in just five days.
"Villisca" went on to screen to enthusiastic audiences in theaters in 52 cities where it successfully competed with, and often exceeded, the box office receipts of its well-heeled Hollywood rivals. The independent documentary film also qualified for the 2005 Academy Award® competition in the documentary feature category.
The new "Villisca: Living with a Mystery" DVD release features the provocative independent documentary film, full-length commentary tracks by Epperly and the filmmakers, a computer-animated walkthrough of the axe murder house, additional scenes, behind-the-scenes footage, the theatrical trailer, and a rare 1963 Villisca axe murder radio broadcast.
The Rundles reside in Los Angeles, California where they are the owners of Fourth Wall Films, an independent film and video production company.
Passion River Films acquires, distributes, and represents unique, award-winning independent films and documentaries. Visit http://www.VilliscaMovie.com for more information on America's greatest unsolved murder mystery.
Contact:
Kelly Rundle, Director
Fourth Wall Films
POB 341610, Los Angeles, CA 90034
Phone/Fax: 310.398.0015; villisca @ aol.com; http://www.VilliscaMovie.com
Interviews with the Rundles and/or Dr. Epperly, photographs, DVD screeners and other promotional materials available upon request.
###