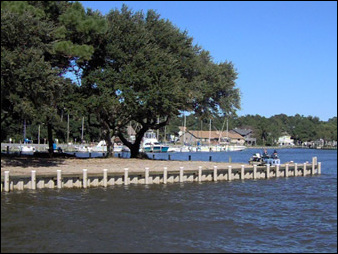 We have one way to get boats in and out of here
Collington Harbor, NC (PRWEB) October 19, 2006
Many of the people who live in Collington Harbor, North Carolina moved here because they are passionate about boating and fishing. Their lifestyles revolve around being on the water. The heart of this vibrant community is the channel that runs through Collington Harbor, providing direct access to Albemarle Sound and the Outer Banks. Most of Collington Harbor's 2,400 lots are waterfront properties, allowing residents to park their boats directly behind their houses.
The channel is the only waterway that goes out of Collington Harbor and into the sound, so it must be shared by all 5,000 residents. The Coast Guard and U.S. Fish and Wildlife Service also rely on the channel. "We have one way to get boats in and out of here," says Collington Harbor Homeowners' Association President, Pete Turek. "If the bulkhead supporting the channel fails, we lose our only connection to the water."
In 2003, Hurricane Isabel damaged the northern side of the community's wooden bulkhead. Last year, another storm revealed hidden damage on the bulkhead's southern end. "A big nor'easter blew a lot of the water out the channel. Once the water was gone, my wife and I were shocked to see that the exposed pilings had been almost eaten away. We wouldn't have noticed it if the waterline hadn't gone down in the storm," says Turek.
Collington Harbor's bulkhead had fallen prey to shipworms. Tiny marine borers and shipworms live in the water, silently devouring wood at an astonishing rate. The holes they create make wooden structures less capable of surviving severe weather. Because the damage is below the water's surface, many property owners have no idea that their structures have become weakened until they begin to collapse.
Turek decided against replacing the bulkheads using traditional marine construction materials, such as concrete, steel or treated lumber, because he wanted added protection against infestation and corrosion. Instead, he chose to use vinyl sheet piling. It was the right decision, according to his contractor, Whit Patterson of Albemarle Bulkheads.
"We've seen water quality improve in recent years. That's great for the environment and for recreational fishing. But, cleaner water creates a perfect environment for shipworms. They are breeding faster now and I'm seeing more bulkheads damaged and even destroyed by them," says Patterson.
In the summer of 2005, Patterson's crew began building a bulkhead in Collington Harbor, using ShoreGuard and TimberGuard products created by Crane Materials International (CMI) http://www.cmiwaterfront.com. Millions of feet of CMI sheet piling have been installed around the globe. The product line has received rave reviews from residential, commercial and industrial clients looking for long-term protection against erosion and flooding.
"This is the third wall that's been there. Originally, they had a concrete system. Then they tried treated wood. The worms really took a toll on the wood wall," Patterson says. "This time, the people in Collington Harbor wanted to make sure their bulkheads were going to be built with materials that provide longevity. They decided on advanced materials partly because they were impressed by the strong track record of durability that vinyl sheet piling has established."
After about a month of work, Patterson finished installing 300 feet of vinyl sheet piling, creating a new northern bulkhead. In early 2006, he will begin construction on the southern bulkhead. CMI representative Dave Trzeciak is helping Patterson coordinate the Collington Harbor projects. "We are proud to be able to provide this type of longer-term solution," he says. "In talking with Whit, I understood the importance of the inlet to the people who live there. We wanted to give them a low maintenance material that they could install and then not have to worry about. The combination of vinyl sheet piling and polymer-encased timber products will give them a total package of protection."
As president of the homeowner's association, Turek had to make decisions about the bulkheads that would satisfy thousands of residents. While some of the homeowners were not interested in the installation details, they all wanted a visually pleasing design that would compliment their scenic channel. Several months after the first installation, Turek reports that the residents are thrilled with the new northern bulkhead and are looking forward to the replacement of the southern bulkhead.
"They all say that they love how it looks, so that's a relief. I agree with them. It is very attractive," Turek says. "Best of all, I'm confident everyone will be happy with the protection that this project will give our channel for years to come. These advanced materials were definitely the right choice for us."
###