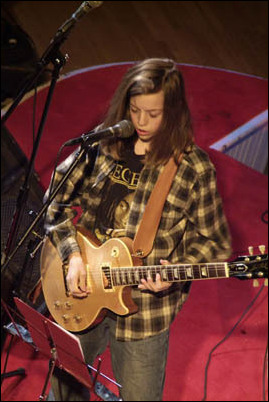 The demand for these community music education programs like the Music Resource Center in Charlottesville are flourishing throughout the nation
Charlottesville, VA (PRWEB) October 19, 2006
The Music Resource Center, a multi-faceted music education center for teenagers, today announced a donation of online music lessons and guitar supplies from WorkshopLive, which produces the most dynamic and engaging music instruction content on the Web. Located in Charlottesville, Virginia and originally funded by the Dave Matthews Band, MRC will receive a combination of annual subscriptions and introductory "Play Free" cards and other teaching materials from WorkshopLive.
The Music Resource Center uses the recording and performing arts to create a sense of empowerment and accomplishment in the urban community. Its mission is to educate and inspire urban youth and through music equip them with life skills for the future. They accomplish this mission through music education and performance opportunities, as well as life skills mentoring.
WorkshopLive is a unique educational platform that delivers personalized and completely individualized music lessons through a broadband Internet connection. Its patent-pending technology determines how each student learns best, then delivers the teaching options, lessons and learning environment that best suits the student's needs.
More than one thousand guitar, bass and keyboard lessons will be available to MRC players and teachers of the revolutionary Internet learning system, any time, day or night, whenever and wherever they can make a high-speed Internet connection. WorkshopLive is also making available its library of publications from the National Guitar Workshops, an affiliate of the online learning company.
"American culture and society is experiencing one of the worst times for arts education in the past 30 years," said Sibley Johns, Executive Director. "Throughout history, the benefit of these programs to individuals and communities is indisputable. While the situation cannot be reversed overnight, this important donation from WorkshopLive is a giant step in the right direction. It's a perfect combination of music lessons and technology, both of which appeal to students at every level. The first music lesson is the first step on a wonderful journey."
Besides individual subscribers, local music teachers will be able to utilize the WorkshopLive services for group lessons that serve all levels of playing from beginner to advanced guitar lessons.
"From a state of the art facility to cutting edge music education programs, the Music Resource Center is poised for a period of tremendous growth internally as well as externally," said John Ross, Director of Marketing for WorkshopLive. "Music enriches our lives, and MRC represents an example of hope. It is a privilege to be associated with this great organization, and help them achieve their goals of bringing about both individual and social transformation."
"The demand for these community music education programs like the Music Resource Center in Charlottesville are flourishing throughout the nation," Ross added. "The MRC works with more than 700 players annually, which more than demonstrates the demand for music lessons in a single local community. WorkshopLive wants to support as many programs as we can to be a significant part of bringing more guitar, bass or keyboard players back to music."
Staff members and volunteers from the Charlottesville music community provide lessons to MRC members in a variety of subjects including guitar, bass, keyboard, voice, and music theory, which are all part of WorkshopLive's current or intended curriculum offerings. All MRC lessons are free, and scheduling may vary depending on instructor availability. With WorkshopLive, the scheduling limitation is eliminated.
In March, 2004 The Dave Matthews Band helped christen the MRC's new home at the ribbon-cutting ceremony, underscoring Matthews' commitment to music education and societal enrichment. Information is available at http://www.musicresourcecenter.org.
About WorkshopLive
WorkshopLive produces the most dynamic and engaging music instruction content on the Web today. Its patent-pending technology delivers the first truly interactive learning experience of its type, with visual and auditory elements that change to suit the preferences and abilities of the student. WorkshopLive incorporates more than 20 years of experience in music education. The company has created hundreds of lessons in all styles of music. Other divisions include National Guitar Workshop Publications and summer learning experiences operated at 28 locations around the country, the National Guitar Workshop and DayJams. The privately funded company is based in Pittsfield, Massachusetts. Additional information is available at http://www.workshoplive.com.
###