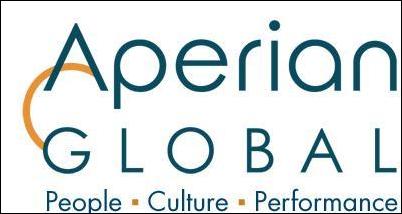 In working closely with our clients from around the world, our goal is to connect global strategy with downstream execution, by creating blended solutions that drive results. Our true value-add is to enable our clients' human capital to be truly effective when operating across borders
San Francisco, CA and Boston, MA (PRWEB) October 19, 2006
MeridianEaton Global, the global consulting and training firm formed in June of last year through the merger of San Francisco-based Meridian Resources and Boston-based Eaton Consulting Group, today announced the company's new name – Aperian GlobalTM. The name change is part of a larger re-branding initiative that reflects the firm's vision and expanded global capabilities.
"Our new name 'Aperian' comes from the Latin root word 'aper' which means 'to open' or 'to give access to'", said Ted Dale, founder and chairman of Aperian Global. "We feel this name reflects the essence of our mission, as well as the spirit of our client work."
Ernie Gundling, founder and co-president of the company added, "Aperian Global's unique blend of consulting, training, and web tools 'opens' the way for individuals, teams, and organizations to engage in new and innovative approaches to seizing global opportunities and solving complex problems in their globalization efforts."
"In working closely with our clients from around the world, our goal is to connect global strategy with downstream execution, by creating blended solutions that drive results. Our true value-add is to enable our clients' human capital to be truly effective when operating across borders," added Dave Eaton, founder & co-president."
About Aperian Global
Aperian Global is one of the world's leading intercultural consulting firms assisting organizations in connecting global strategy with execution through people, culture and performance. We are distinguished as a leader in our field by the fact that we have:
­o Well recognized client partners:
70% of the Fortune Top 10
25% of global 1000 companies
Government agencies such as NATO, the U.S. Army
International Nonprofits such as UNICEF
o Web tools that are the benchmark in our field
o Talented team of full time consultants who include some of the most experienced, globally dispersed experts in our industry
­o Consulting practices with specialists in areas that are priorities to companies working globally: cross-border M&A/Joint Ventures, Leadership, Outsourcing/ReSourcing, Diversity & Inclusion, Teams, and Projects
Aperian Global has more than 85 consultants in 40+ locations around the globe, with offices in the Americas, EMEA & Asia/Pacific.
Press Contacts
Laurie Emery, COO
+1 415 321 7922
Email: lemery at aperianglobal.com
BradBungum, MD-EMEA
Phone: +45 40 54 23 21
Email: bbungum at aperianglobal.com
This press release was distributed through eMediawire by Human Resources Marketer (HR Marketer: http://www.HRmarketer.com) on behalf of the company listed above.
###