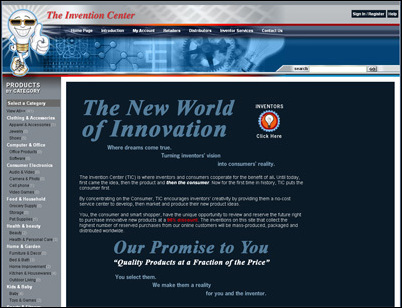 To my knowledge, no other company provides free services to inventors, while providing consumers an exceptional offering of new products for purchase at a 95 percent discount
Huntington Beach, CA (PRWEB) October 19, 2006
Consider it the 'American Idol' of patents and trademarks. A remarkably creative clearinghouse of sorts lets inventors "audition" new product ideas with the buying public.
The Invention Center (TIC), an invention development firm based in Huntington Beach, Calif., provides creative innovators with a novel way to pre-market their new product ideas and gives potential buyers a chance to 'vote' on inventions they find appealing.
Most new inventors don't know how to get a patent, nor do they possess the resources to effectively develop an idea and mass-produce their new invention. TIC brings consumers and inventors together to validate innovation before the product hits the market. Buyers with an interest in new technology can browse a wonderful display of innovations and 'Pledge' to purchase a limited number of those products at a 95 percent discount.
This 'Pledge' allows the average person to weigh in on the marketability of a future product and assure its success. According to founder/CEO Kish Kuehnert, "Independent inventors are the greatest natural resource in the world, yet their ideas are frequently ignored. Independent consumers are the foundation of economic growth, yet they are rarely consulted on pre-market innovation. TIC connects the two for the benefit of all."
"To my knowledge, no other company provides free services to inventors, while providing consumers an exceptional offering of new products for purchase at a 95 percent discount," Kuehnert said.
Corwin Osborne, CTO, states "TIC stimulates the creative process by providing true innovators with a perfect venue to test the validity of their product concepts."
"On average, inventors spend $12,000 to $15,000 in purchasing their dreams, yet less than 1 percent succeeds," Osborne added. "The Invention Center eliminates that financial risk and dramatically improves the success rate."
Co-founder, Janet Marshall, states "Over time, TIC will help improve the overall quality of products seen in stores, force big industry to be more competitive and transfer a large portion of the financial rewards over to inventors."
The management team and founders of TIC have a combined 100-plus years experience in intellectual property and new product development.
The company Web site, theinventioncenter.com, includes a listing of inventions for consumers to browse and toll-free number for inventors to call.
About the The Invention Center:
The Invention Center (TIC) is where inventors and consumers cooperate for the common good. Until today, first came the idea, then the product and then the consumer. By concentrating primarily on the consumer, TIC encourages inventors' creativity by providing them a free service center to develop, illustrate, protect, pre-market and produce their new product ideas. Through TIC, the consumer has the unique opportunity to review and reserve the future right to purchase innovative new products at a 95 percent discount. The inventions on the site that collect the highest number of reserved purchases from online customers are produced, packaged and distributed.
###