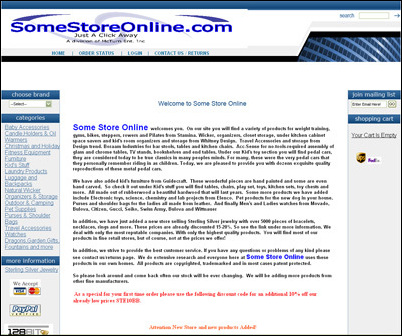 Customer service is the foundation of our business
Noblesville, IN (PRWEB) October 19, 2006
As consumers' time and budgets become more limited, affordable online shopping sources fulfill a vital need. SomeStoreOnline.com announces the grand opening of its site, dedicated to offering quality, brand name items at prices lower than those found in traditional retail stores.
SomeStoreOnline.com carries a range of sought-after items including many storage container and closet organizers, children's furniture, exercise equipment, and air travel accessories. The site is especially useful for busy customers who want the ability to shop from their homes or offices. SomeStoreOnline.com eliminates the complications of driving to a traditional shopping center, searching for parking, and finding time to complete shopping during typical retail hours.
In addition to variety, the company also has devoted itself to making sure its customers are satisfied and will want to make repeat purchases. "Customer service is the foundation of our business," says Brian McLaughlin, President of Some Store Online, a division of McTurn Enterprises Inc.
The online store's variety of storage container and closet organizers and air travel accessories will appeal to a broad market of shoppers who lead active lives and who are looking for items to keep their hectic lifestyles more organized. Visitors to the site will find the familiar brand names that they demand. "I agree that customer service is vital to our business, but it's also important that we sell high-quality products at a fair price," says Bruce Turner, Chief Financial Officer of Some Store Online, a division of McTurn Enterprises Inc.
Visitors to SomeStoreOnline.com will find the online store to be well organized and easy to navigate. The site features secure ordering for anyone purchasing inventory items such as storage container and closet organizers, sterling silver jewelry, kids furniture, mens watches, or air travel accessories.
The owners of SomeStoreOnline.com recognize that as gas prices remain at all-time high prices and people become busier, the demand for alternatives to traditional retail store shopping will only increase. Because the selection is so varied, many people will consider SomeStoreOnline.com a one-stop shop when they need to buy gifts or items for their own homes.
The grand opening of SomeStoreOnline.com is important because it offers Internet shoppers a highly reliable, secure source for buying quality items at discounted prices. The site currently offers items including luggage and travel accessories, discount furniture, watches, kitchen organizers and storage, and many other desirable pieces. The store will periodically add new lines of products to keep its inventory fresh and interesting for repeat visitors.
About Some Store Online:
Some Store Online is a division of McTurn Enterprises Inc. The primary officers of Some Store Online are its President, Brian McLaughlin, and its Chief Financial Officer, Bruce Turner.
###