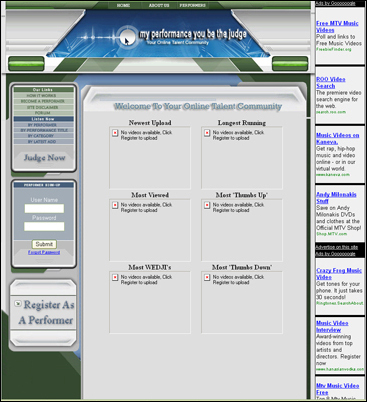 We pay performers from fees collected from site users who want to tell you by means of video how great you are or how you need to change
North Las Vegas, NV (PRWEB) October 19, 2006
The success of shows such as "American Idol" and "Dancing with the Stars" has proven that viewers worldwide have an interest in discovering the next big star.
To Troy Olsen, it also demonstrates that online singing contests, dancing videos and free online entertainment may also have a place in the average household, via the personal computer. Olsen, president and CEO of Las Vegas-based THORCO Enterprises, has established a Web site where undiscovered entertainers can be seen, critiqued and even paid for their talents.
At mypubtj.com, individuals can post video performances and view videos of their peers. Their critics, in turn, can upload complimentary or scathing video comments on the quality of the entertainment, a la Simon Cowell. What sets the site apart from other video sites such as YouTube.com, Olsen said, is that a well-executed break dancing video or belly dancing video on Mypubtj.com could earn money.
"We pay performers from fees collected from site users who want to tell you by means of video how great you are or how you need to change," Olsen said. "Performers can make money from around the world – overnight or while they eat.
"The site allows viewers to give a 30-second Internet Webcam/video judgment (WEDJI) of any video performance," he said. Online users can purchase inexpensive blocks of video and then render a verdict on the caliber of their peers' performances. The featured performers are paid a percentage of those revenues collected.
Olsen believes that both performers and judges will enjoy the freedom of video evaluations.
"I think that seeing and hearing your fans or honest judgment on how to become a top performer means much more than reading those comments," he said.
Virtually nothing within the bounds of good taste and basic morality is off limits at Olsen's site. Entertainers can submit break dancing videos, modeling videos, belly dancing videos, online acting duet scenes, or take a more traditional route with musical performances.
About the Company:
At mypubtj.com, entertainers can post everything from break dancing videos to belly dancing videos to music videos online, and hone their talents based on responses from online viewers. The Web site, a subsidiary of THORCO Enterprises, LLC, was created to give performers around the world a venue to display their talent internationally through the Internet. By posting video performances on the site, entertainers the world over can air their hopes and dreams and get personal feedback from other site users through Internet Web cam/video Judgment (WEDJI).
###