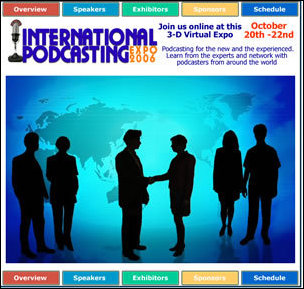 Canton, GA (PRWEB) October 21, 2006
70+% of 2007 cars are being built with iPod-ready sound systems, and 60+ million people own iPods and MP3 Players. Almost 1 billion cell phones will be sold in the US alone in 2006. 75% of all media player owners are projected to download at least one podcast.
This weekend (October 20-22, 2006), entrepreneurs will gather together at the Online International Podcasting Expo to learn why major companies like Nokia are entering the Podcast Industry. Steven Stewart of Nokia will present an online audio/visual seminar open to the public about Nokia's newest podcast compatible phone, and their proprietary podcasting tools and services. Michael Sharp of Phonecasting.com will also explain the inevitable growth of podcasting into the cellular phone arena.
Carter Harkins of innerTOOB has developed an online tool that allows podcasters and listeners to imbed audio, visual and text comments at different time codes within a podcast. innerTOOB's players also lets podcasters include "chapters" and titles within a podcast. Dave Nelsen's TalkShoe is a unique combination of teleconference lines combined with online conferencing abilities. TalkShoe also offers podcasters an opportunity to be paid for their podcasts by allowing advertising to be attached to their shows. Both of these podcasting tools are free.
The Online International Podcasting Expo will also include training sessions on free recording, editing and mixing software for both PC and Mac users. Penny Haynes of 1st Podcast Publishing, and Organizer of the Expo, will teach Beginning Wavepad Recording and Editing. Doug Snodgrass of the WilFlipson Show will teach Advanced Wavepad Editing. Jerry Franklin will teach Advanced Audacity techniques. Free downloads of WavePad, MixPad and Audacity will be provided during the seminars.
Matt Mullenweg, creator of WordPress, and Andy Wibbels, the original blog evangelist and author of BlogWild!, on the Fortune recommended reading list, will teach Podcasters how they can increasing their search engine rankings by adding blogging to their podcast. FeedBurner's Eric Olson and PodPress' Dan Kuykendall will teach you how to take your WordPress blog and turn it into a Podcast feed. George Smyth, the President of the Association of Music Podcasting, will show you where to find legal music for your podcast, and Dave Jackson of the School of Podcasting will teach you about the different audio formats you can use.
These are just a sample of the 40+ online seminars and networking events being presented this weekend. All ticket holders will receive free recording and editing software, training, and downloads of all of the recorded events. For more information, go to http://www.InternationalPodcastingExpo.com.
PRWeb is the Official Newswire of the Online International Podcasting Expo.
# # #