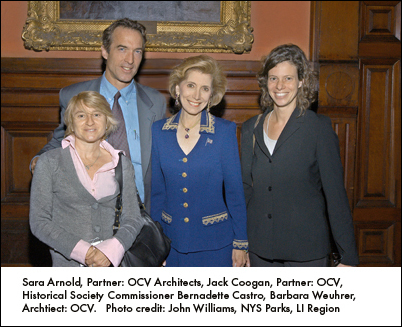 . . . Pageantry of the History of Commerce by Sea…
New York, NY (PRWEB) October 22, 2006 —
The restoration and conversion of the former Bank of America International Building into a 120,000 square foot, eleven-story private school is an architectural marvel by OCV Architects who are making a better New York with their unique brand of smart, community-conscious architecture. This 25 million dollar project, which will accommodate 1000 elementary school students in 2007, is recognized for its excellent landmark preservation. OCV will be honored for their skillful gut-renovation by the New York State Historic Preservation Office, (SHPO), at their commencement in October of 2006. Jack Coogan, partner at OCV Architects, steered the project for Michael Koffler, president and C.E.O. of MetSchools, Inc., an organization dedicated to developing well-rounded schools in New York City. The plans for the new Claremont Preparatory School came as parents voiced concerns about having more quality school options in the city. Claremont is the only secular private school in Lower Manhattan's Financial District, but it is one of many private schools developed by MetSchools with OCV Architects, including the Aaron School, the Claremont Children's School, and the Sunshine Development School in Queens.
Built in 1929, 41 Broad St. has had a number of owners, including the Stock Exchange across the street. The grand banking hall was built with gilded columns and a Griffith Baily Coal mural, depicting the; ". . . Pageantry of the History of Commerce by Sea…" In the 30's, this Wall Street gem fell into disrepair, but through the grime, Jack Coogan saw the potential for a great educational facility. Starting with the 29 ft., vaulted, grand banking hall, his firm created a breath-taking auditorium by preserving the historical columns and mural. As construction progressed, the bank's vaults became a state-of-the-art cafeteria. The crusty interior offices were transformed into classrooms, laboratories, and administration facilities. An Olympic-size swimming pool was installed in the cellar, a regulation-size, fully equipped gymnasium and outdoor playground were constructed on the roof, and the grand façade was restored to its original Neo-Classical details. The architectural transformation was financed in part by the building's current owners, Walwilhal Associates, an affiliate of Garden Homes Commercial Properties.
Mr. Coogan, a partner at OCV Architects for 25 years, has many educational and community projects under his belt. "Making schools is an opportunity to create spaces that thousands of people will experience---" Coogan said, "an opportunity to provide a positive architectural experience for young people". In keeping with this idea, the auditorium is outfitted with Broadway-quality sound and light system to accommodate events in the Historic space. The wood paneled offices and boardrooms were restored as the school's library and administrative offices. The classrooms and education spaces were finished with environmentally friendly and renewable materials with a bright and colorful palette taken from the ceramic mosaics of the banking hall.
The NY State Historic Preservation Office, part of the NY State Office of Parks, Recreation, and Historic Preservation (SHPO), "helps communities to identify, recognize, and preserve their historic resources, and incorporate them into local improvement and economic development activities. The [annual] awards honor excellence in the preservation and revitalization of the state's historic and cultural treasures. The awards this year recognized some of the most important [architectural] preservation efforts in western New York."
( http://nysparks.state.ny.us/ )
###