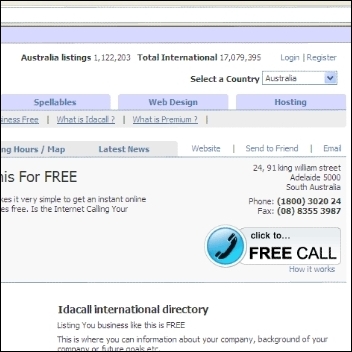 We have now achieved fully accountable, seamless integration of business directory infrastructure and telecommunications, says IDACALL co-founder, Darren James
(PRWEB) October 24, 2006
Imagine, the power of a website with combined features from such websites as google, ebay, yellow pages, and myspace, that also integrates revolutionary new telecommunication technology, http://www.idacall.com/
That's the message from the team behind IDACALL, leaders of the next generation of online business directories that is setting a new benchmark for the sector.
IDACALL is created by two Australian brothers, following in the historic foot-steps of iconic two man teams behind such websites as google and you tube.
IDACALL is an international online business directory (over 17 million listings) that not only offers all the basic listing features that are standard on similar websites, but also provides free state-of-the-art features for businesses such as:
Unique website address, eg, http://www.yourbusiness.idacall.com/ Detailed "About Us" page with picture
Latest News feature
Employment Vacancies
Product listings with picture, description and price details for thousands of items
Patented instant website editor
Furthermore, businesses that make full use of the free features are rewarded with higher rankings in search results.
Easy connection with customers: Putting the "call" into IDACALL
While these features put IDACALL well ahead of the competition, the site's user-friendly, FREE call technology harnesses the best of the next generation of web services.
For businesses that buy credit of 1000 minutes of customer calls for AU$99, a "click to call" icon appears in their listings, inviting customers to call the business free.
Customers click the icon, enter their telephone number, and the IDACALL system sets up an instant telephone call with the business.
"We have now achieved fully accountable, seamless integration of business directory infrastructure and telecommunications, says IDACALL co-founder, Darren James".
It's like the Yellow Pages saying to businesses, 'advertise with us for free and only pay for the calls you receive'.
The web is creating a much more efficient business environment where every dollar of marketing spend is under scrutiny. That's how it should be!
We believe it should be a no-brainer for businesses to invest a few minutes making sure they are listed on IDACALL, because it will be the most transparent, fully accountable advertising and promotion they have ever had access to, he says.
For more details call Darren James on 1800 30 20 24
###