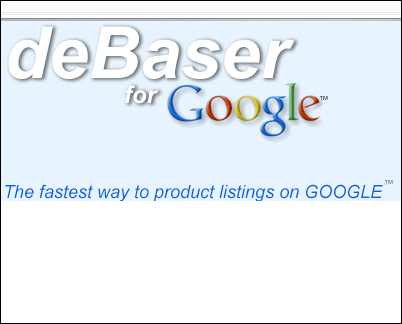 We hope to make the vast marketing capabilities of Google™ accessible to the least savvy internet users
Orlando, FL (PRWEB) October 24, 2006
Republic Intermedia, a subsidiary of Republic Promotion Co. has launched into the second phase of testing for its deBaser™ for Google™ service. While reporting high marks in customer responsiveness, ease of use and customer retention, some critical problems were corrected dealing with Google's™ quickly developing API and stringent listing standards. The second phase of testing will allow customers to generate customized list sheets with categories specific to a diverse range of industries.
"We hope to make the vast marketing capabilities of Google™ accessible to the least savvy internet users," says Paul Geller, Republic's founder and chief architect of deBaser™. "Google™ has done a great job of introducing themselves to new users and no one can deny that their usability is second to none. However, you have to know how to use RSS just to stay up to date on their developing technologies, new features and interface requirements. It is a full-time job to say the least. Most advertisers don't have time to manage, let alone optimize and compete in the Google™ sandbox. We've had great success charging low monthly fees for these services."
When questioned about Google's™ announcement that it would be retiring FROOGLE™ and inserting GOOGLE BASE results into organic searches, Paul responded with:
"FROOGLE™ was a great product but we have to admit that Base is the end-all be-all of product submission. We were ecstatic that all the work we were doing on De BASE er was going to be more widely used than anticipated. we are hoping that our product is both fully automated and out of the Beta testing stages by the Holidays this year."
Try deBaser for GOOGLE™ online at http://www.googeldebaser.com for single-rate monthly fees.
Debaser™ for Google™ has been tested by Real Estate Professionals, Online Retailers and Wholesalers, Car Dealers, Video Distributors, you name it. It has become the new standard for legitimizing your products and services.
For busy professionals in the Real Estate Industry try: G-Real Lister (http://www.greallister.com), the Google™ Base listing tool tailored specifically to the Real Estate Professional. Office and MLS licenses are available.
Also see their, Search Secretary service which takes control of every aspect of your Google™ marketing campaign from Adwords™ to Organic SEO to Base listings.
###