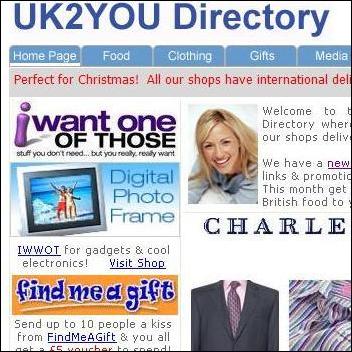 Diary of a Trailing Spouse
London, (PRWEB) October 26, 2006
Ethical shopping launched on UK2YOU.com The Expat Directory. UK2YOU.com The Expat Directory has added Ethical shopping to its list of services due to unprecedented demand by today's shoppers. UK2YOU.com is an international Expat directory service with over 200 shops offering worldwide postage. The merchant has brought together a mixture of ethical, organic, environmentally friendly and charity shops in one place. This will be perfect for anyone who wants to make a difference to someone's life this Christmas. Buy a goat or even a herd of goats and help bring happiness to an entire village.
Find departments such as Travel, Gifts, Clothes, Ethical, Kids, Gadgets and Food shops at the UK2YOU Online Shopping and Directory service.
UK2YOU was created by a partner of a British Foreign Office employee to reach and service expat's and those wanting to buy British Gifts, food and other goods all around the world. Noticing a gap in the market UK2YOU only promotes shops that deliver to the international audience and takes away the annoyance buyers feel when getting to the checkout and finding the shop doesn't deliver to their country.
Also visitors to the site can read the weekly "Diary of a Trailing Spouse", a web log written by the creator of UK2YOU on topics as diverse as "Getting the best out of eBay" and "Men and Gadgets". Visitors can feedback on each topic if they wish and pick up some useful tips and web site links on the blog too.
Visit The Diary of a Trailing Spouse
With over 200 shops now on the UK2YOU site servicing all E.U. member states, North America and more, the expat has never had it so good.
The site has been completely redesigned and is now 2-3 times faster with fewer departments offering more services.
Books, gifts, chocolates, clothes to electronics, eco friendly and fair trade products giving the consumer a very wide online shopping choice. The aim of the site is to provide the consumer with one place to go on the web where they can find quality British shops all in one place with guaranteed E.U. delivery.
In the run up to Christmas, British expat's and other overseas and UK based buyers will find the new site with its vast array of shops the perfect place to buy their Christmas presents to send back to the UK or to them overseas.
With a large number of the shops offering free UK delivery and some free international delivery; the canny shopper will keep coming back as the site brings more and more services and shops to the customer.
Visit UK2YOU British Expat Shopping Directory Here
Try out UK2YOU.com today bringing the UK that little bit closer.
###