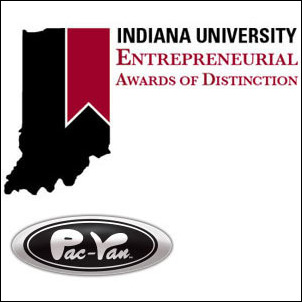 Indianapolis, IN (PRWEB) October 24, 2006
The IU Entrepreneurial Awards of Distinction celebrate and showcase the achievements of Indiana's entrepreneurial companies. Originally constituted as the Growth 100 Awards, this is the second year for a new format recognizing categories of Growth, Spirit, Innovation and Social Enterprise.
Nine-time winners in the past 10 years:
Pac-Van, winner for the last eight consecutive years of the Growth 100 Awards, was a finalist in 2005 and this year a winner in the Entrepreneurial Spirit category, awarded to honor companies for their high standards in risk-taking and perseverance through obstacles.
About Pac-Van, Inc.
Pac-Van, Inc. (pacvan.com) is a nationwide provider of modular buildings, mobile offices, and portable storage containers. The company serves a diverse array of customers, including those in the commercial, industrial, construction, medical, special event, government, and education markets. Pac-Van's reputation for excellent quality and unsurpassed service has won the company many accolades, including multiple listings in the "Inc. 500" List of Fastest Growing Companies in the U.S. and the Inc. "Inner City 100" List of Fastest Growing, Privately Owned, Inner City Companies in the U.S. Pac-Van is headquartered in Indianapolis, IN, and has offices in 20 cities in 13 states.
For further information, contact:
Angie Hamilton Mason,
Vice President, Marketing
Pac-Van, Inc.
2995 S. Harding Street
Indianapolis, IN 46225
Phone (317) 791.2020
Fax (317) 791.3610
pacvan.com
###