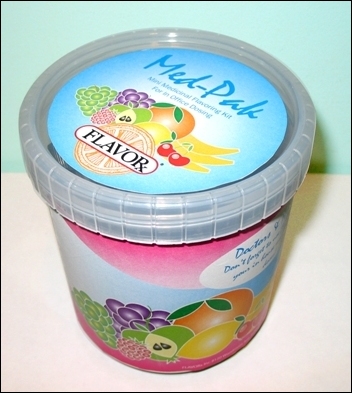 Bethesda, MD (PRWEB) October 25, 2006
FLAVORx Inc, the company dedicated to 'forever changing the way kids take medicine,' has developed a flavoring kit specifically for physicians and nurses. In comparison to FLAVORx's traditional medicinal flavoring system that it provides to chain and independent pharmacies, this Med-Pak is a "mini kit" that allows for in-office dosing and taste-testing of liquid medications. This immediate flavoring process will allow physicians and nurses to showcase a solution to bitter tasting and foul smelling medications to their patients, who may then go on to have their full medication volumes flavored at the pharmacy. For acute conditions, nurses or physician assistants may administer immediate in-office doses for which compliance, and a child's ability to swallow a medication, is a necessity.
According to FLAVORx research studies among women with young children, approximately 96% of mothers consult doctors and nurses first when their children become ill. In addition, mothers reported that they are often more receptive to receiving information and advice from doctors' offices because they view these sources as a reliable and credible reference for health and parenting information. Therefore, parents repeatedly rely on the trusted advice of physicians and nurses to learn about procedures, such as FLAVORx, that enhance treatment programs and patient outcomes.
The Med-Pak includes two scientifically-tested, FDA-approved flavors (Bubblegum and Grape), the FLAVORx proprietary Taste Masker and Bitterness Suppressor, four medication droppers and flavoring formulations. Thus far, physicians and nurses have tried this in-office dosing and flavoring for commonly prescribed medications such as Prelone, Clindamycin and Augmentin. By having a one-dose flavoring kit at their fingertips, doctor's offices can now suggest flavoring as solution to unpalatable medications and concurrently allow their patients to sample how their medication will taste with the addition of FLAVORx. In addition, doctors and nurses have access to the FLAVORx 24-hour technical support team that is available to assist offices with any immediate questions they may have about flavoring.
In more than 10 years as the industry leader in medicinal flavoring, FLAVORx's team of doctor detailers' has learned from visiting with and educating general practitioners and pediatricians that parents appreciate the ability to learn about the flavoring process directly from their doctors. Having an on-site flavoring mini-kit allows patients to experience firsthand the change in taste with the addition of flavoring. Patients that find flavoring beneficial can then go on to their pharmacies to flavor their entire medication bottle.
On average, medicinal compliance in children is roughly 53%, indicating that children regularly fail to adhere completely to treatment programs. Taste and smell of medications are among the most complaints among pediatric patients and commonly leads to skipped doses and unfinished drug regimens. Unfortunately, this medication non-compliance, though commonly disregarded as insignificant, can lead to persistent symptoms, deterioration of patient health, need for additional doctor visits, increased healthcare costs and the development of drug-resistant organisms.
For more information on the FLAVORx Med-Pak please call 800.884.5771 or visit http://www.flavorx.com.
About FLAVORx
FLAVORx is a pharmaceutical flavoring system used by pharmacists and veterinarians nationwide to improve the palatability of liquid over-the-counter and prescription medications. To date, FLAVORx has flavored over 40 million prescriptions without any incidence of allergy, adverse reaction or changes in efficacy. FLAVORx flavors are non-allergenic, dye-free, sugar-free, phosphate-free, sodium free and alcohol-free, making them safe for all patients. With over 42 flavors ranging from Bubblegum and Watermelon to Chocolate Silk Pie and Peaches 'n Cream, FLAVORx is sure to please any taste bud whether it's a child or an adult. In addition, 16 animal-inspired flavors such as Crispy Bacon and Salmon Steak help medications go down a little easier for FLAVORx's veterinary friends as well.
###