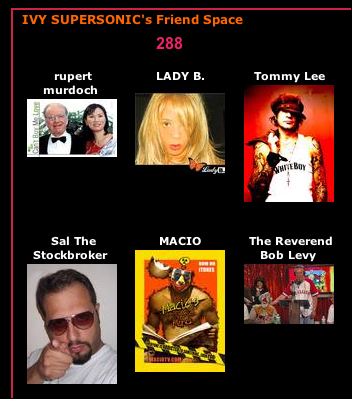 Interview about How Fox Stole Ivy's Scrat.
New York, NY (PRWEB) October 26, 2006
Ivy Supersonic recently appeared on the Dr. Keith Ablow Show to discuss sex, ex-lovers, ex-boyfriends and marriage with the Editor in Chief of Cosmopolitan Magazine, Kate White. The segment, which aired October 2006 on Rupert Murdoch's Fox 5 New York can be viewed at the following link: http://dsmjmedia.com/ivy/dk/. The Dr. Keith Ablow Show can be seen every morning at 10am (Eastern) on Fox 5 New York.
Ivy Supersonic has a ten million dollar lawsuit against Murdoch's Fox conglomerate for the alleged theft of her cartoon character Sqrat (http://sqrat.net ) aka Scrat (http://scrat.com) starring in the Ice Age Movies (Case # 04401 Court of Appeals, Second Circuit, NYC).
For the past 45 days Supersonic has traveled the U.S. from state to state doing TV appearances and photo shoots. Last seen on Miami Ink on TLC (http://dsmjmedia.com/ivy/), Supersonic is to be featured in the November 8th Issue of Steppin Out Magazine as "Model of The Week." Obtain the magazine at Tower Records and click this link to view photos: http://ivysupersonic.com/gallery/album05.
Supersonic is now campaigning at the doorstep of Rupert Murdoch's Manhattan home, which he purchased for 44 million dollars from the Rockefeller Family. She has been emailing, messenging, mailing, UPSing, & Fed Exing and "won't let up" until she's "paid." Watch the YouTube video by comedian Macio
(click:: http://www.youtube.com/results?search_query=ivy+supersonic&search=Search ) titled: "Interview about How Fox Stole Ivy's Scrat." Macio's show can be heard on iTunes.
Rupert Murdoch purchased MySpace for well over half a billion dollars. During the Oscars, the week of March 6-12, 2006, Variety Magazine's editor Don Waller wrote a half page article titled "Music's Space Race." Supersonic, the single handed "Warrior" campaigning for "Justice" purchased a weekly half page ad in Variety Magazine (see attached) on the same page so Murdoch, MySpace, Ice Age, Supersonic and her scrat.com shared the entire page together ... only because "We are Friends."
http://www.myspace.com/ivysupersonic
###