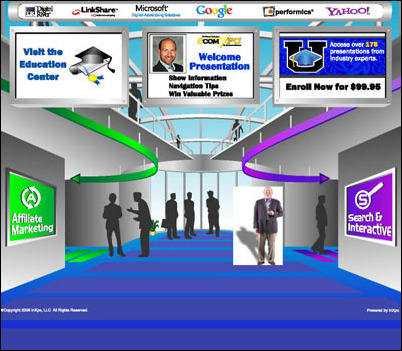 Chicago, IL (PRWEB) October 25, 2006
Affiliate, Search and Interactive Marketers are gathered together this week, October 24-26th for the 4th eComXpo eComXpo the 100% online virtual tradeshow for e-Commerce marketers and now the largest tradeshow of it's kind in the world.
eComXpo features all the benefits of a top traditional tradeshow without the cost, travel or hassle associated with traditional events. Attendees and exhibitors interact with more than 7,000 people via chat or e-mail, attend educational presentations by top industry experts, visit more than 300 booths in the exhibit hall and enter to win fantastic prizes. The best part is that it's all done without leaving the comfort of the home or office.
eComXpo's Educational Center features seven top-notch panel discussions, five solo presentations and keynote speeches from Chris Anderson, Wired Magazine and John Battelle, FM Publishing, Steven Denton of LinkShare and Google's Nick Mihailovski and Paul Botto. Presentations will be presented throughout the three days of eComXpo on topics of interest to anyone involved in the eCommerce industry including affiliate, search and interactive marketing professionals, bloggers, publishers, merchants, networks, eRetailers, agencies and webmasters. Each of these educational sessions will include a live Q&A session broadcast over WebmasterRadio.FM. New for the October show, attendees will get a sneak peek at "hot" new presentations prepared exclusively for eComXpo University. For the full speaker roster, visit eComXpo Speaker Schedule .
Attendee registration at eComXpo is absolutely free at eComXpo and includes admittance to the exhibit halls, education center, networking lounge and eligibility for all show prizes throughout the three day show.
eComXpo recently introduced an exciting new educational feature, eComXpo University, giving subscribers four months on-demand access to more than 175 e-commerce marketing presentations, both newly created exclusively for the University, as well as archived presentations from the February 2005, October 2005, April 2006 and October 2006 eComXpo shows.
Being a part of eComXpo is a valuable experience for all participants and attendance is free. To get more information or to register as an attendee please visit the eComXpo website at http://www.ecomxpo.com. We'll see you online at eComXpo.
About eComXpo
eComXpo is the first virtual, online trade show and conference for e-Commerce marketers. Its fourth show is October 24-26, 2006. More than 450 exhibitors, sponsors, and presenters will be gathering with more than 7,000 attendees (making it the largest eCommerce tradeshow in the world), completely online and 100% free to attend. eComXpo provides all the benefits of a top tradeshow without the cost, travel or hassle normally associated with traditional events. Free registration and additional information are available at http://www.ecomxpo.com. eComXpo is hosted by InXpo (http://www.inxpo.com), which also powers online events in other markets.
###