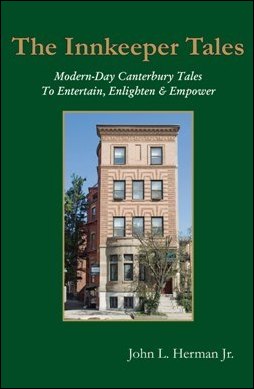 this book helps you realize that you can get up off of the floor and keep going.
Baltimore, MD (PRWEB) October 26, 2006
Local businessman, John L. Herman Jr., owner of the Abacrombie Restaurant and Bed and Breakfast in Baltimore's Cultural District is releasing a new book entitled, The Innkeeper Tales. The book, edited by Clarinda Harriss of Towson University, is a modern day Canterbury Tales story to entertain, enlighten and empower you.
Truth, irony, love and betrayal are all rolled into one completely non-fiction book. Stories of failure and success will take you to the breakfast table at the Abacrombie where a gathering of travelers unfold tales that will remind you of the tenacity of the human spirit. According to the author, "this book helps you realize that you can get up off of the floor and keep going." The Innkeeper Tales is a warm and enticing read that invites you to sit down and share your own story with the Innkeeper.
In 2002 Herman's family purchased the Abacrombie, which has been featured in magazines such as Bon Appetit, Food and Wine, and Saveur. The restaurant was recently featured on the Food Network's "Tasty Travels", hosted by Rachael Ray. As current owner of The Abacrombie Restaurant and Bed and Breakfast, Herman meets guests from different walks of life. Many have told their stories to Herman, including life's celebrations and life's losses, and the author shares with us his recollections in his first book.
The Innkeeper Tales is due out early 2007 from HSB Press. Advanced copies will be available in November by visiting http://www.TheInnkeeperTales.com.
To request a media kit, review copy or to schedule an interview with John L. Herman, Jr., please contact Shannon Hill, publicist at Bisson Barcelona, 603 664-5776 or email.
Herman has owned 25 companies over his 35 year business career, including a national brokerage firm that handled the sale of over 300 companies nationwide. At one time he founded The Wax Man, a local franchise operation that was expanded nationally and became a publicly traded company that ultimately went bust. He took the lemons from that experience and made lemonade, acting as a consultant in 41 different states for financially troubled firms.
###