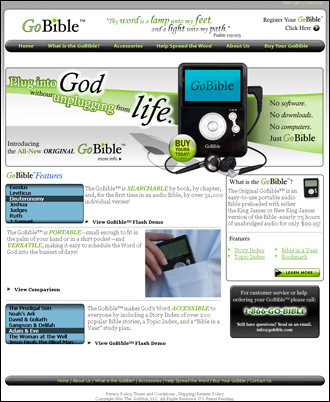 This product is perfect for people who want to read the Bible daily, but can't always find the time. It's easy to use and great for people of all ages.
Saint Louis, MO (PRWEB) October 25, 2006 –
The community of more than 200,000 Christians in the United States has largely embraced the fusion of new technology and Biblical teachings that has increased in scope for more than a decade. Interactive computer software, Bible readings on CD and even electronic handheld devices with the complete Bible text have generated renewed interest, assisted Christians with disabilities and provided time-saving solutions for multitasking situations. But a complete audio Bible contained in a single portable handheld device has only recently become available, opening up a whole new method of on-the-go learning and audio Bible study.
The Original GoBible, now available at GoBible.com is a small, simple-to-use device that contains recorded readings of every Bible verse, and is available in the King James Version and the New King James Version. The audio Bible features an LED screen interface to help users quickly find any section of the text, which is fully indexed and searchable by book, chapter or verse. Available accessories like portable speakers and a car kit which permits playback through any car stereo's FM tuner create new avenues of audio Bible study for individuals or groups.
GoBible President Andrew Block said he is extremely excited to introduce the first complete audio Bible player, adding, "The Original GoBible represents a breakthrough in technology. The device has over 70 hours of audio compressed and we have for the first time ever cut the audio of the Bible to the verse level so the user can search and begin play at any of the 31,000 or so verses in the Bible."
Block states that the Original GoBible serves a long-standing demand in the Christian community for a preprogrammed audio Bible player. He explains, "This product is perfect for people who want to read the Bible daily, but can't always find the time. It's easy to use and great for people of all ages."
The Original GoBible is packed with special features like a Story Index that contains more than 200 of the most popular Bible stories, an audio Bible in a Year program that allows listeners to hear the entire Bible in 365 days, and a Topic Index and bookmark feature to provide easy reference to users' favorite books, chapters and verses. The Original GoBible retails for $99.95 at GoBible.com.
For audio Bible study and complete audio Bibles in the King James and New King James Versions, available through preprogrammed, handheld devices, please visit GoBible.com.
About GoBible:
GoBible is a consumer electronics company that specializes in new technologies with a focus on religion. Their groundbreaking flagship product is the Original GoBible, an easy-to-use handheld device that contains complete recorded audio of the entire Bible and is indexed by book, chapter and verse. The Original GoBible is the first device of its kind, designed to provide Christians with a convenient, on-the-go solution for Bible study and personal reflection.
###