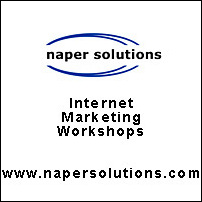 We have had other family members successfully connect with adoptive birthparents using the Internet, so we see a value of making the Internet a successful part of our campaign.
Naperville, Illinois (PRWEB) October 25, 2006
Naper Solutions will be holding two Internet Marketing Workshops, November 2 at the Hilton of Lisle/Naperville, a western suburb of Chicago, Illinois, and again on November 14 at the Hilton Indianapolis North in Indianapolis, Indiana to instruct small businesses and entrepreneurs how to market their products and services online.
The unique workshop instructs businesses on limited marketing budgets how to build websites for search engines and provides insight into online advertising campaigns. Paying a high-priced consultant for the same work, many times makes no sense for the small business.
What does this have to do with adoption?
Eileen and Tom have adopted twice in recent years and are now seeking to adopt a third child. They find that having their family biography online makes them more accessible to potential birthparents.
"We have had other family members successfully connect with adoptive birthparents using the Internet, so we see a value of making the Internet a successful part of our campaign." says Eileen. "We also work with our local adoption agency and adoption attorney, and establishing an online family biography is an important compliment to those efforts."
At the Internet Marketing Workshop, Naper Solutions will show how Tom and Eileen's webpage is built so that search engines are more likely to index it into their database of sites, and how Internet surfers seeking adoptive parents in Illinois will find their family biography. Other real-world business examples that will also be shown the day of the workshop.
"It doesn't matter what message, product, or service you are looking to post online", says Maggie Strevell, President of Naper Solutions. "The principles and techniques for getting your message found are essentially the same. While there is no exact secret recipe to achieving favorable search engine results, there are some basic techniques to follow as well as some to avoid. What a small business doesn't know about marketing on the Internet can hurt their chances of ever getting found."
The workshop will help businesses puzzled by why their website isn't in the top results in the search engines, or frustrated by conflicting search engine optimization advice, or losing money to its competitors. "Marketing managers, small business owners, and website designers will be glad they attended." says Maggie Strevell.
The workshop encompasses instruction on search engine optimization (SEO), keyword research, link building, submitting to search engines, pitfalls to avoid, and configuring pay-per-click (PPC) advertising campaigns such as Google Adwords.
About Naper Solutions
Naper Solutions provides Internet Marketing consulting services and training to small to medium-sized businesses. Naper Solutions is passionate about helping businesses make informed Internet Marketing decisions.
Naper Solutions' history is rich with a unique mix of technology, technology consulting, presentation creatives, and Internet marketing saavy. Being involved in the industry since 1997, we understand of the technology behind the Internet.
About the Workshops
Register online at http://www.napersolutions.com or call 630-548-5614.
Thursday, November 2, 2006
8 AM to 5 PM
Lisle/Naperville Hilton
3003 Corporate West Dr
Lisle, IL 60532
OR
Tuesday, November 14, 2006
8 AM to 5 PM
Hilton Indianapolis North
8181 North Shadeland Avenue
Indianapolis, IN 46250
Contact Information
Maggie Strevell
President
Naper Solutions, Inc.
2424 Thaxton Ct.
Naperville, IL
http://www.napersolutions.com
630-548-5614
###