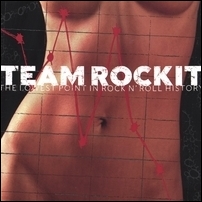 Chicago, IL (PRWEB) October 26, 2006
Chicago-based Team Rockit celebrate the Fall release of "The Lowest Point In Rock N' Roll History," their fourth album on Fire-tone Records.
The album captures vigorous grooves, spontaneous guitar solos, and memorable hooks, all thrown atop power pop melodies. Fueling comparisons to Urge Overkill, The Strokes, and The Figgs for band members Joe Sanzeri (vocals, guitar), Matt Friscia (drums), and Dave Damask (bass). They enlisted engineers Todd Bowie (Beck, Joe Walsh) and Dan Glomski (Pixies, Dandy Warhols) to mix "The Lowest Point In Rock N' Roll History."
Team Rockit released an EP "The Mirror" in 1999, followed by "Hell On Wheels" in 2001, and "Duck Duck Goose" in 2003. This brought about many opportunities: an opening gig for Marty Casey & Lovehammers, multiple tours in the USA and overseas, and a European distribution agreement with One on One Records.
After the success of Team Rockit's first music video "She Wants Us To Stay," in 2003 they decided to go for it again. The enhanced portion of the new album features two music videos that showcase the bands' humorous and fun personalities. "Something I Said" incorporates a Brady Bunch motif coupled with live footage, while "Know What I Mean" was recorded entirely in front of a green screen to transport the band into their own comic strip.
Critics continually chime in calling Team Rockit's music "nasty and sweet," and "powerful, tuneful rock and roll that will definitely leave you wanting more."
Take a listen at:
http://www.myspace.com/teamrockit
http://www.teamrockit.com
Watch the videos at:
"Something I Said" - http://www.youtube.com/watch?v=GtDREqJK-Sk
"Know What I Mean" - http://www.youtube.com/watch?v=sHl4kpgwGYU
Upcoming Shows:
Friday, October 27
Piece
1927 W. North Ave, Chicago
Friday, November 3
Underground Lounge
952 W. Newport, Chicago
Thursday, November 23
Rock City
Uster, Switzerland
Friday, November 24
Rabatz
Herzogenaurach, Germany
Saturday, November 25
Prager Frühling
Munich, Germany
Wednesday, November 29
Wild at Heart
Berlin, Germany
Saturday, December 2
White Pig
Bad Frankenhausen, Germany
For more information, to arrange interviews, show previews, request a CD, photos, etc. please contact J. Haverkamp at 515.554.5299 or haverkamp AT paperworkmedia DOT com.
###