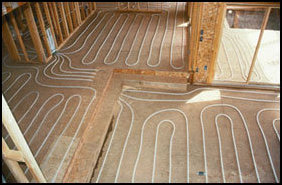 Yucaipa, CA (PRWEB) October 27, 2006 –-
For those entertaining the thought of an interior concrete floor, but who are reluctant because of the "cold" factor, then a radiant floor heating system is the answer. These systems "radiate" heat from the floor and deliver the heat evenly throughout the rooms. Radiant floor heating systems can keep a family cozy and comfortable, and often increase the resale value of a home.
Two of the most popular radiant heating systems used today include, water pipes (hydronic) and electrical circuits. Air ducts embedded in the panel are another option, but seldom used. According to the Radiant Panel Association, your choice will most likely depend on the energy costs of the available utility and the size of the project.
Electric panels have electricity as their sole utility and pose less expensive up-front costs. In comparison, water systems have the advantage over electric systems. They can be heated by almost any utility such as natural gas, propane, oil, electricity, wood or solar, and temperature changes of water can be accurately controlled and measured.
One of the major benefits of these systems is comfort. With evenly distributed heat, and silent operation the system becomes inconspicuous. Unlike forced air systems that can spread dust, pollen and germs, radiant heating systems are great for those who suffer from allergies, and are less likely to dry out breathing passages and skin.
For more information on system options, comparisons, benefits, and general information on how each system works visit The Concrete Network, the largest and most comprehensive source for concrete information.
Established in 1999, The Concrete Network's purpose is to educate consumers, builders, and contractors on popular decorative techniques and applications including stamped concrete, stained concrete floors, concrete countertops, polished concrete, and much more. More than 872,000 visitors researched The Concrete Network Web site in June, 2006.
The site excels at connecting buyers with local contractors in their area through its Find-A-Contractor service. The service provides visitors with a list of decorative concrete contractors throughout the U.S. and Canada, and is fully searchable by 22 types of decorative concrete work and 199 metropolitan areas throughout North America.
Photos courtesy of Uponor.
###