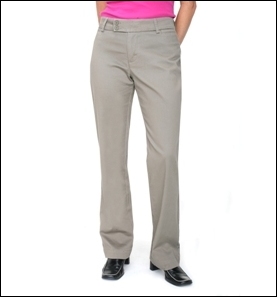 Lee Jeans is committed to helping women look and feel their best
MERRIAM, KS (PRWEB) October 26, 2006
Halloween candy, Thanksgiving turkey and holiday cookies – it seems impossible to enjoy the upcoming festive season without being bombarded by goodies and the guilt of indulgence. Lee Jeans' new Natural Fit with special interior design and slimming features is the latest in women's secret weapons that allows you to look and feel great even after enjoying your fair share of the holiday loot.
Since the mid-1800s women have been using unique devices to slim their silhouettes - from the corset to the girdle to control tops. Today, brands like Lee Jeans have built the slimming features right into wardrobe staples. Lee Natural Fit jeans and pants feature a unique interior construction with pockets that span across the entire front panel, giving an extra layer of fabric to help hold in the tummy. Side seams are moved forward to create the illusion of longer, slimmer legs, and the no-gap waistband ensures comfort.
"A recent leejeans.com poll revealed that 40 percent of women said their tummy was the first thing they looked at in the mirror when trying on a new pair of jeans," said Liz Cahill, Director of Advertising and Public Relations for Lee Jeans. "Lee's Natural Fit products were created with today's woman in mind, featuring special slimming features that fit and flatter all body types."
The creation of the Natural Fit line was driven by research. A KSA research study showed that 90 percent of apparel manufacturers use sizing systems dating back to the 1950s. Lee took part in an industry study conducted by KSA and TC2/Size USA that performed 3D scans of more than 11,000 women to identify 200 body points relevant to fit. This data was integral in helping Lee designers further pinpoint the fit challenges many women face and develop features they need to not only look but also feel great.
Lee Trend Expert Rachelle Moley offers these tips to further achieve a slimming look this season:
1.Accentuate the positive. Add a unique belt to draw attention to a small waistline. Consider pants with flap pockets or that are angled slightly to add shape to the rear view.
2.Think long and lean. Choose pant styles in dark washes and clean finishes to create a longer, leaner silhouette. Choose a heel that makes jeans come within 1/2" of skimming the floor to make legs appear longer.
3.Be true to yourself. Buy the size pant you are, not the size you intend to be. A clean, slimming look can't be achieved when your garment is too small.
"Lee Jeans is committed to helping women look and feel their best," said Cahill. "We continue to develop products and features based on what today's real women need. Our goal is to make jeans that fit and flatter every woman in America."
Natural Fit is sold at Kohl's, Goody's and JC Penney.
Lee® Jeans is a division of VF Corporation. (NYSE: VFC). Headquartered in Merriam, Kan., Lee manufactures and markets brand denim, casual pants, shirts, fleece and knit apparel. A brand committed to the community, Lee Jeans founded Lee National Denim Day®, the largest single-day fundraiser for breast cancer. VF Corporation is a leader in branded apparel including jeanswear, outdoor products, intimate apparel, image apparel and sportswear. Its principal brands include Lee®, Wrangler®, Riders®, Rustler®, Vanity Fair®, Vassarette®, Bestform®, Lily of France®, Nautica®, John Varvatos®, JanSport®, Eastpak®, The North Face®, Vans®, Reef®, Napapijri®, Kipling®, Lee Sport® and Red Kap®.
###