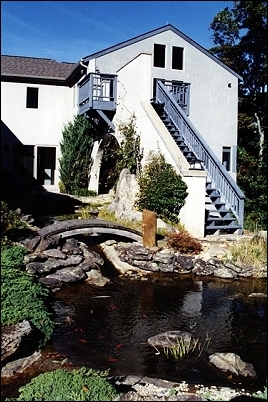 The air just seems cleaner when you're up on top of a mountain surrounded by mature trees
Waynesville, NC (PRWEB) October 26, 2006
Surrounded by breathtaking views of the Great Smoky Mountains, the majestic home at 1967 Lickstone Road in Highland Forest offers prospective buyers the opportunity to own a beautiful mansion or a lot in an exclusive gated community at auction prices, according to Leonard Hartsook of The Redfield Group, Inc.
The Redfield Group is charged with auctioning this private, three-story mansion on 4.46 acres of Haywood County real estate, located in the Highland Forest, the highest gated community east of the Rockies with an elevation of 5,300 feet.
"The air just seems cleaner when you're up on top of a mountain surrounded by mature trees," commented Hartsook, who is the project manager for the sale. "During the day, you can literally see for miles and miles, and at night you will think you can reach up and touch the stars." The property's lovely natural setting, including waterfalls, creeks, beautiful landscaping and a large fish pond. The home boasts 7,633 square feet of living area with an additional 1,000 square feet of unfinished basement for future expansion.
With four bedrooms, and four and a half bathrooms, the property makes an ideal home for a family; however, with elevator access to all three levels, it would also be ideal for retirement.
Built in 1995, appointments throughout this extraordinary home include a two-story atrium with Brazilian walnut flooring, a custom made retractable entertainment wall, custom iron staircase and walkway, and a central courtyard with Japanese gardens and koi ponds. This unique property combines the pleasures of architectural distinctiveness with the charms of beautiful Smokey Mountain views.
In addition to the home on 4.46 acres, two adjacent lots will also be sold absolute in separate auctions. These lots could be purchased to increase the acreage and privacy of the existing home, or they could be purchased by two separate families for new construction of mountain dream homes. These lots are 2.63+/- and 2.24 +/- acres respectively.
Included in the beautiful gated community of Highland Forest is a 12,000 square foot lodge that features a private health club, billiards room, library, indoor heated pool, great room, kitchen and five luxury suites for those out-of-town guests.
The property will be available for preview Nov. 9 thru 16, 10am to 5pm daily, with an agent on-site. The auction is set for 2pm on Nov. 16. For more information, call The Redfield Group toll-free at (866) 673-9270 or visit redfieldgroup.com to download an auction packet.
Waynesville, North Carolina
Waynesville, has an ideal year-round climate, beautiful mountain scenery and warm Southern hospitality. About 40% of Haywood County is occupied by the Great Smoky Mountains National Park, Pisgah National Forest and the Harmon Den Wildlife Refuge, where the Blue Ridge Parkway meets the Great Smoky Mountains.
About The Redfield Group
Based in Rainbow City, Alabama, The Redfield Group, Inc., is one of the nation's fastest growing high-end real estate auction firms. The Redfield Group is dedicated to offering services that meet the demand of today's market, and is committed to customer satisfaction.
Founder Mike Fisher has served as President and Chief Executive Officer since the inception of The Redfield Group. He has assembled a team of the most experienced high-end real estate professionals in the auction industry. This team has been involved in well over 1,000 auctions and has sales approaching $1 billion. Their past client list reads like a "Who's Who" of America's most respected business, entertainment and athletic professionals. Fisher has been active with auctions for over seven years and has been involved in the selling of some of the most exclusive real estate in the United States and the Bahamas.
Published by ASMarketingCenter.com a division of http://www.auctionservices.com and the http://www.nationalauctionlist.com.
Contact Information:
The Redfield Group, Inc.
2810 Rainbow Drive
Rainbow City, Alabama 35906
Phone: 256-413-0555
Toll-Free: 866-673-9270
Fax: 256-413-0552
Web: http://www.redfieldgroup.com
###