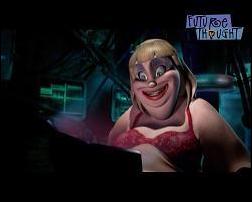 Coconut Fred's Fruit Salad Island.
San Jose, CA (PRWEB) October 27, 2006
One of the best-kept secrets in animation won't be secret now that the sci-fi satire "Haptics" has screened at the Hollywood Film Festival and won the Hollywood Discovery Awards for the Best Animated Short Production. That event has shone a spotlight on Future Thought Productions, a five-year-old animation studio whose creativity has earned it a stellar list of clients and production partners. Future Thought has created animation for The Walt Disney Company, Warner Bros., MTV and Nickelodeon, yet company founder Jay Zaveri notes, "We also have been growing beneath the radar, and creating original content like 'Haptics.' We've been building a library of animated shorts that can play on mobile phones, the web, or as interstitial entertainment for theaters and TV. We believe the animation business will become increasingly cross-platform, and that there are great opportunities for those who can create content that is media-agnostic."
"Haptics" reflects Future Thought's commitment to extending its high-quality library. This edgy, 5-minute film depicts characters that live in a time when machines are efficient, reality is virtual, and 'the human touch' is out of reach. The studio uses the latest software from Softimage, often the tool of choice for feature filmmakers. The striking look of "Haptics" and its bold subject matter are undoubtedly reasons why it has already won the animation prize at the Florida Independents' Film Festival in Tampa and now the Best Animated Short Production at the prestigious Hollywood Film Festival.
Future Thought is no stranger to honors, having won awards for animation at the Chicago Film Festival, the Ottawa International Film Festival, and at Promax and BDA in Asia. Its core team of animators work in Mumbai, India, and the reach of its productions is global. Future Thought was one of the first studios in the world to use Macromedia's Flash software for television animation, and that expertise can be seen in Disney's "The Buzz On Maggie" and in Warner's "Coconut Fred's Fruit Salad Island." The studio has also demonstrated its 3D-CGI skills for the past two years with OzieBoo!, a series of character-animated shorts that airs in 25 countries.
Future Thought CEO Jay Zaveri knows that maintaining a multi-skilled team of animators enables the company to develop original pieces in either 2D Flash or 3D-CGI - targeting different media platforms as appropriate. Strong management and sound relationships with television, web and mobile companies have made Future Thought a pioneer in cross-platform animated content. "We already have a library of 3,000 animated videos that we distribute to mobile devices through fifteen operators on three continents," he explains. "As operator technology gets standardized, we believe that the next generation of mobile and handheld devices will bring exciting streaming content, little bite-sized humor and animation that provide instant gratification and entertainment."
Whether "Haptics" will be coming to a mobile device near you anytime soon is an open question. But Future Thought isn't waiting for opportunities to come to it -- this company is determined to create its opportunities. Future Thought is already at work on a family-friendly 3D-CGI short to follow "Haptics," and will announce details in the near future.
"Haptics" was screened at the Tampa Theatre in Florida and the ArcLight Cinemas in Hollywood, it can also be viewed online at Atom Films.
## #