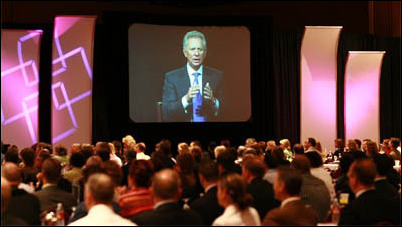 The recognition is great company wide, but the quality of people in attendance from around the world is the best.
Plano, TX (PRWEB) October 28, 2006
Ralph Oats and Cathy Oats, Founders of Wellness International Network, Ltd. (WIN), an undisputed leader in the health and nutrition industries, celebrated the company's 14th year in business during the annual Anniversary Gala, October 18-21, 2006.
Founded in 1992 by Ralph Oats and his wife, Cathy, Wellness International Network, Ltd. (WIN) has been the opportunity for thousands around the globe to achieve physical, mental and financial wellness. The 2006 Anniversary Gala was a time for attendees to network and take part in four days of in-depth training and festivities as they continue their journey for total wellness. "Our business works because our products work, and the company's success is directly related to our distributors," says WIN Founder Ralph Oats. "The more people they share the products and opportunity with, the more lives are impacted, physically, mentally and financially."
In the company's 14 years of doing business, Wellness International Network has spread from Dallas, Texas across the United States and into the Netherlands, Germany, Spain, Belgium, United Kingdom, South Africa and Israel. "It's very gratifying to look back and see where we've come in just 14 years of business," shares WIN Founder Cathy Oats. "Every year the bar rises for the amount of products being produced and incomes being earned, and this year was no different as shown by the Annual Awards Ceremony. We're building a billion-dollar company by showing people how to take control of their destinies and teach others how to do the same."
While every distributor plays an important role in expanding Wellness International Network (WIN), hundreds of distributors were recognized for their leadership roles and setting the bar for competition. Emerging leaders, distributors involved in the company for one year or less, were recognized as Top Newcomers. Other awards included Wellness Awards for people who have improved their health and quality of life with WIN products; the Top 10 Earners worldwide; Top 10 Business Builders and the Top 10 Producers worldwide, to name a few. One of the most special awards of the evening was the Giving Back Award which recognized distributors who have focused on giving back to their community and spearheading efforts to raise money for causes important to them. "That's the whole purpose for me," shares Paul Gebbink, #1 Top Producer and Giving Back Award recipient about why he and his wife, Els, continue building their WIN business. "You can keep earning a lot of money but there needs to be a real purpose for doing this too. I am involved in this business to help people." Paul and Els were recognized for their efforts with the Wheelchair Foundation, Hearts Together for Haiti and the Help Kelly Foundation.
The week kicked off on October 17th with distributors participating in the second annual WIN Gala Golf Tournament, which benefits St. Jude Children's Research Hospital. Attendees also had the opportunity to visit many of Dallas' most popular destinations during a City Tour. WIN Corporate Headquarters was the place to be on Thursday, when attendees enjoyed touring the departments and meeting employees whom offer distributor and technical support worldwide. By creating an entrepreneurial company that takes care of the bricks and motor for distributors, WIN has offered thousands of people a way to create the lifestyle they desire by owning a business without all the hassles of being a traditional business owner -- all they need to focus on is WIN's proven system for success. "Your business grows when you keep it simple - sharing the products and opportunity with people. By helping others reach their goals in this business you will reach your goals," says Bob Wagner, one of WIN's first distributors and multiple award winner. "The recognition is great company wide, but the quality of people in attendance from around the world is the best." The four-day conference, held between WIN Corporate Headquarters and Embassy Suites in Frisco, left distributors and guests driven and determined to continue the company's global expansion as they build their businesses, working together to make WIN's 15th Anniversary Gala to be the biggest and best year yet.
About Wellness International Network, Ltd., (WIN)
A privately held company specializing in health and nutritional products, Wellness International Network, Ltd. is headquartered in Plano, Texas, with its European affiliate, WIN Worldwide BV, located in Hoofddorp, Holland and its South African affiliate, Wellness International Network S.A. (Pty) Limited, located in Johannesburg, South Africa. Founded in 1992 by Ralph Oats and his wife, Cathy; WIN operates in many countries throughout North America, Europe and Africa, and is far and away the forefront leader in global network marketing. Wellness International Network's complete nutritional line is listed in the 2007 edition of the Physicians' Desk Reference® (PDR®) for Nonprescription Drugs and Dietary Supplements, the authoritative reference for health care professionals for decades, and a number of products have been reviewed by the National Institute for Public Health and the Environment (RIVM) in The Netherlands based on International Olympic Committee (IOC) standards on behalf of The Netherlands Olympic Committee (NOC) and The Netherlands Sports Federation (NSF). Products reviewed are now listed on the 'white list,' a list of products considered safe to use by top sports athletes from all over the world. Learn more about why "It Pays to Live Well" at winltd.com.
# # #